Awhile back, I shared a link on Facebook to a past post where I had featured some real-life laundry rooms by fellow bloggers with the sentiment that these were based in reality and not in Pinterest. The resounding response was hahaha! I wish! and most responded that your real-life laundry rooms were small areas, tiny closets, or corners of basements. So today, I've rounded up almost FORTY ideas and inspiration for truly tiny and awkward areas, those small laundry spaces.  (featured image via Hoot Designs on Shanty2Chic)
If you have a tiny laundry space that you've made amazing, we'd love to see! Leave us a comment!

Solutions for Small Laundry Spaces
No matter your setup, try one of these ideas to maximize your space and storage in your laundry.
DIY Laundry Room Drying Rack | Centsational Girl
Tiny Wall Baskets | Waffling Design
DIY Fold-Away Ironing Board | Folksy Home
DIY Pull-out Sweater Drying Rack | Sawdust Girl
Use a Retractable Clothesline Hidden in a Cabinet | Just About Home
Over The Door Storage with Chalkboard Paint | My Sweet Savannah 
Add Color to Your Tiny Laundry Room
Adding color may not change the size of the room, but it can definitely make it feel bigger and more fun!
Less Cake More Frosting
Keller Creative
Poppies At Play
Have a Multi-Tasking Laundry Room
When you're crunched for space, double up on uses for a room by putting the washer and dryer in a bathroom or garage or using the laundry room for tool storage or an office. 
Retro Rad Laundry Room in the Garage | Cavender Diary Blog on I Heart Organizing
Hardware and Tools in the Laundry Closet | Sew Many Ways
Gray Beadboard Laundry in a Half Bath | Home With Baxter
Laundry Closet Meets Office | Organized by Helen
Laundry Room Studio Office | Show and Tell
Stacked Laundry in the Half Bath | The Long Awaited Home
Tuck Away the Laundry Room
Hiding the laundry room may not mean you can hide from laundry, though…
Hidden Behind Doors in the Bathroom | Southern Living
Hallway Laundry Closet and Ironing Station | The Yummy Life
Laundry Pantry in the Kitchen | Southern Living
Secret Laundry Room | Handy Man, Crafty Woman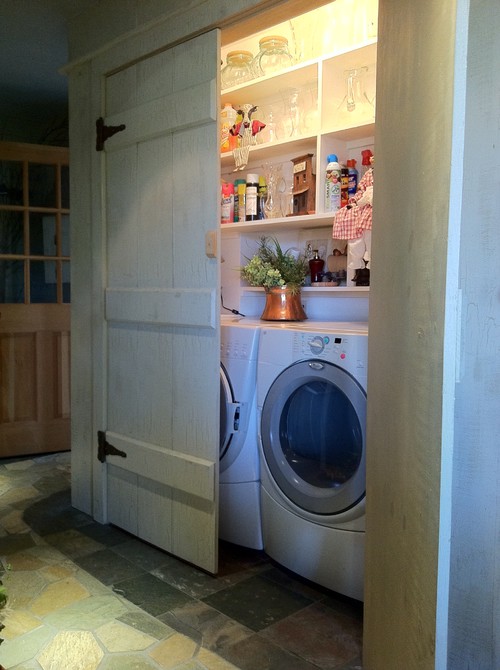 Hidden Behind Fun Barn Doors |
Houzz
Add Storage, Shelves, and Baskets
One of the tricks of a pretty and tiny laundry room is making sure it is still USEFUL. Use creative shelving and baskets to keep everything at hand but not staring you down. Check out these storage ideas for small laundry rooms. 
Contemporary Laundry | 
 Houzz
Small Laundry Room Makeover | 
View Along The Way
Organized Mudroom Laundry | Pook & Lexi
Tiny Tiled Laundry | A Touch of Tyrell
Laundry Room Shelving | Misadventures in DIY
Simply Organized Laundry | Ask Anna
Tiny Laundry Room | Young House Love
Organized Laundry Closet with Cubbies| Organize and Decorate Everything
Mudroom Laundry Room with Storage Pedestal | Tremendously Thrifty
Laundry Room Redo | Hoot Designs on Shanty2Chic
Small Laundry with Labeled Baskets | Eat. Sleep. Decorate.
Laundry Closet with Cubbies and Cabinets | The Sparitarian
Slanted Laundry Basket Shelf | Hold On To Your Hats
$0 Laundry Room Updates | Rice Designs
Small Laundry Makeover | 320 Sycamore
Green Laundry Room with Floating Shelf | Southern Hospitality
Simple Laundry Room Updates | Six Cents
Laundry Closet with Shelves and Hanging Rod | Kirsten Danielle Design
Colorful Organized Laundry Closet | Suburban Homestead
How to Build a Laundry Storage Closet | Fine Homebuilding
Basement Laundry with Storage | Ivy in the Bay 
More ideas from our readers:
Rustic Reclaimed Wood Laundry Shelves | Chores and Chandeliers