16 Tips for Outdoor Summer Fun with Kids
Follow along with Summer Family Activities Week by clicking here or on social media with #SummerFamilyActivities. Better yet share you favorite summer family activities by using #SummerFamilyActivites. Or play along and add your ideas in the comments here on Tipsaholic.
One of the best things about summer is getting the kids outside and having fun. From old school games in the backyard, to crafts in the driveway, to science experiments that leave the kids both learning and laughing, there are so many activities to do. Here are 16 tips for outdoor summer fun with kids.
The backyard is a perfect place to set up some games for the kids to play. The family can enjoy spending time together close to home. Plus, many of these ideas could be used to get the whole neighborhood together. Most are simple to put together, but can lead to a lot of fun.
1. Backyard twister is perfect way to introduce a game from your childhood. After all it is new to the kids! Just a little paint and your ready.
2. Put kids in their ok-to-get-messy-in clothes and let them run through a mud run obstacle course. The one time you won't say to them, "Stay out of the dirt!"
3. While this one takes a little more work, a DIY bean bag toss (or cornhole game to some) could be easily decorated for any event. Plus, it is on the skill level of little kids, but is still lots of fun for those who are older.
4. Boats made from soap can float down a gutter. This can be a race to the finish or make it a cooperative game by have the kids team up to make the most creative looking boat. A great way to clean up without letting the fun end.
5. And for when the sun goes down, the fun doesn't end. Break out the glow sticks for a ring toss.
6. Frisbee Tic Tac Toe is a great way to play a classic game and throw some frisbees.
After the kids have fun running around the backyard, move on to crafts and art projects. Since these can get a little messy, they are perfect for outdoor summer fun.
7. This is a simple way to have your kids create art while stilling getting them moving. Dip balls or other objects into paint and let them toss it at a box lined with paper. Instant masterpiece!
8. Incorporate the outdoors into the art. Have kids gather leaves, and make a leaf rubbing using whatever color they choose.
9. Use the driveway as a canvas and let the kids color with frozen chalk. Perfect for those hot summer days.
10. This masterpiece can be created by having the kids blow bubbles and letting them pop on the paper. The secret is adding a little food coloring to the soap.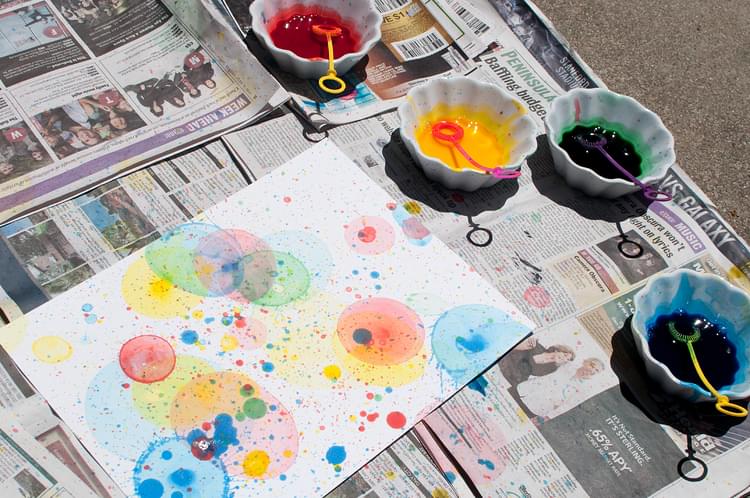 11. Use what is in nature all around to make art. The kids can grab sticks, leaves, seeds…anything they find, and arrange them into silly faces, or something else. Take a picture to preserve the kid's creations.
For more summer outdoor fun with kids, add in a few science experiments. With so many things to try there is definitely an idea here that your kids will want to do. They will be having so much fun, they won't even know they are learning!
12. A balloon race will put a smile on everyone's face.
13. Set up a science lab in the backyard. Discuss what happens when different chemicals are mixed together such as vinegar and baking soda to mentos and diet coke. Always a hit!
14. Talk about the effect the sun has on things. Try out these fun solar science experiments including building the kid's very own solar powered oven. The nachos will make a great treat.
15. This volcano will extend the fun to the beach or the playground sandbox.
16. Grow a garden with your kids. It is a great way to teach them about how plants grow.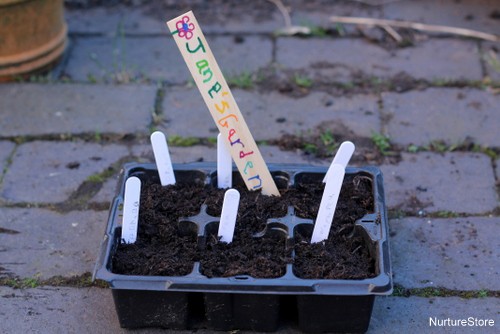 Featured Image via Better Homes and Gardens
I'm Frances. I am a mother, a wife, and a community volunteer. I work as a scientist by day and moonlight as a blogger. Making lists helps me keep everything on track. While I have a good life, there is always room for improvement. Join me as I decorate, organize, and try new things over at my blog Improvement List.
More fun ideas with kids:
get the reader favorite
Cleaning Binder & Custom Cleaning Calendar
This 18-page editable cleaning binder printable pack will help you establish a cleaning schedule based on the custom tasks you actually need for your home. From the spring cleaning checklist to everyday cleaning recipes, this printable set is great for kick-starting a cleaning routine and staying on task with annual and semi-annual tasks, too.