This Asian inspired Citrus Glazed Salmon incorporates a citrusy kick of lemon, lime, and orange for a colorful and refreshing twist on a traditional salmon recipe.
Citrus Glazed Salmon
Citrus Glazed Salmon
Author:
Ingredients
1 pound of center-cut salmon fillet, skinned and cut into 4 portions
Salt and Pepper, to taste
1/2 cup Mandarin Oranges, drained
1 ½ tablespoons Lime Juice
1 ½ tablespoons Lemon Juice
2 tablespoons Orange Juice
1 tablespoon Rice Wine Vinegar
2 Scallions, chopped
Corn Starch, as needed
Instructions
[b]Salmon:[/b]
Preheat oven to 450F.
Season the salmon fillets lightly with salt and pepper and place on a non-stick baking sheet.
Bake for 12-15 minutes until salmon is cooked through and flakes easily with a fork.[br][br]
[b]Citrus Glaze:[/b]
In a sauté pan over medium heat, add the mandarin oranges, lime juice, lemon juice, orange juice, rice wine vinegar and scallions.
Heat until it begins to boil then turn down the heat to a low simmer and allow to slightly reduce.
If a thicker sauce is preferred, add corn starch to thicken to desired consistency.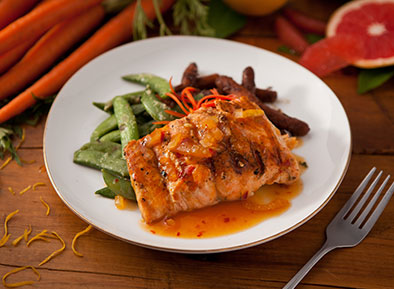 Thanks to bistroMD for submitting this delicious recipe, perfect for any holiday or special occasion! Also try their Pork Tenderloin with Apple Cider Reduction. Check out some of their healthy and tasty appetizers, featured on FOODIEaholic, found below!