Home Sweet Home on a Budget: Bloggers' Basement Rec Rooms
Last week we started a month of "Fun Spaces" with some exciting inspiration photos. Today, we're going to continue that inspiration with our focus on basements…bloggers…and their budget-friendly, DIYed recreation rooms! These are the rooms where families—and especially kids—can kick back and have a good time. The bloggers that I'm featuring today figured out ways to get the most bang for their buck in basement spaces. They also came up with some pretty amazing designs and décor for these rooms.
Vibrant colors, unique wallpaper, comfy seating, a quirky owl pillow and plenty of toy storage all add up to playroom success in the basement corner at I Heart Organizing.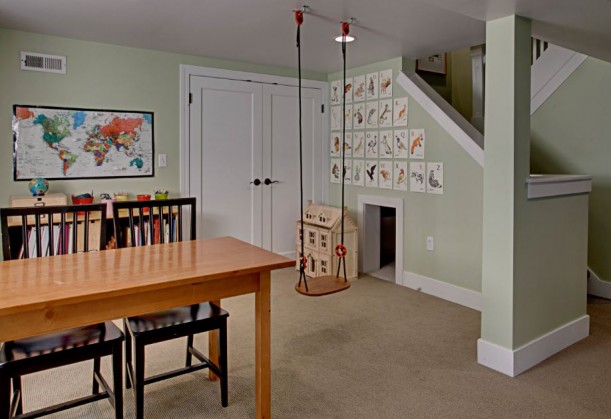 This basement, featured at Hooked on Houses, was in really bad shape when the homeowners bought the house. Plywood walls, cement floors—it was a blank slate. Now it's a great place for kids to play and learn with colorful, educational artwork on the walls, and a "secret" under-the-stairs playhouse.
At Décor Allure, the homeowners decided to put an awkward space near their stairs to good use when they finished off their basement. Thinking of hours of fun ahead, they built a twirly slide into their basement! And that's not the only idea they borrowed from the neighborhood park—there's a swing downstairs, too!
The basement playroom at 320 Sycamore is decorated with children's art and a funky license plate wall that adds color, geography, and fun designs to the space.
Another kid-friendly basement gets finished with oodles of storage, plenty of places for creative work and play, and lots of whimsy at Juicy Bits.
Reality check: you can have a fun, colorful basement play space that meets your family's needs without nailing a single sheet of drywall. Need proof? You can view it at To a T.
At Tidbits from the Tremaynes, there's a place in the basement designated as the home movie theater, complete with its own ticket booth. Bonus: the ticket booth doubles as storage for the family's DVD collection. Can you believe the homeowners DIYed the furniture?
Speaking of DIYed furnishings, this darling table in the basement playroom was built by Shanty 2 Chick. I love that the little stools double up as mobile storage units for books, toys, and craft supplies!
This basement done by Pop of Pretty has room for plenty of activities: lounging with movies, working creatively, exercising, and playing with toys. It's a place where people of many ages and interests can enjoy spending time together.
The before pictures of this basement at Our Daily Legacy were anything but pretty. It's amazing what some creativity, paint and DIY spirit to transform a room with orange paneling and avocado carpet into a delightful place for playing and pretending. (Love the stage!)
I have one more fun basement to show you, but with a disclaimer: technically, it wasn't put together by a blogger. It's on a designer's site, but the proud owners of this fun basement are friends of a friend…and I'm a blogger, so we're going to grandfather them into the category, okay? Bloggers or no, this basement is full of good stuff, including a space for doing something this family loves: science! They actually requested a basement laboratory. Click over to check out this basement makeover at Opal Design Group—the transformation is that incredible.
Incredible ideas, right? Now, take 'em and run with 'em! I'd love to have you show off your "fun spaces" (playrooms, rec rooms, media rooms, etc.) during the linkup at the end of the month.
Stay tuned for more budget friendly fun space inspiration for your home from the homes of other bloggers, all through November.
Featured playroom via Babble
Cassity Kmetzsch started Remodelaholic after graduating from Utah State University with a degree in Interior Design. Remodelaholic is the place to share her love for knocking out walls, and building everything back up again to not only add function but beauty to her home. Together with her husband Justin, they have remodeled 6 homes and are working on a seventh. She is a mother of four amazing girls. Making a house a home is her favorite hobby.