It's been about two weeks since we shared our faux fireplace mantel redo, and gosh darn it, I think it's nifty. There are two problems with it, one of which I think we finally solved. The plants in the apple box just didn't quite go with it, and it is a little big in scale for the living room. While we are considering moving this beauty to another part of the house sometime down the road, we finally got to the project of redoing the inside.
I say "finally" got to the project, because in all reality, this started back in May. On the north side of our house there is a poplar tree that is incredibly tall – I dunno, 60 feet or so. It's such a monster that I've dreamt more then once that it fell down in a windstorm. I've come to loathe this tree for other reasons – the root system is creating pure havoc throughout my lawn, making unsightly bulges, not to mention destroying my lawnmower.


Luckily my brother-in-law is not quite the pansy I am when it comes to climbing up tall trees like this one with a saw in one hand and rope in the other. He helped me shop off a good 20 feet from the top of the tree. Truth be told, we had intended to take the whole thing out, but it started to rain. And that was the end of our attempt.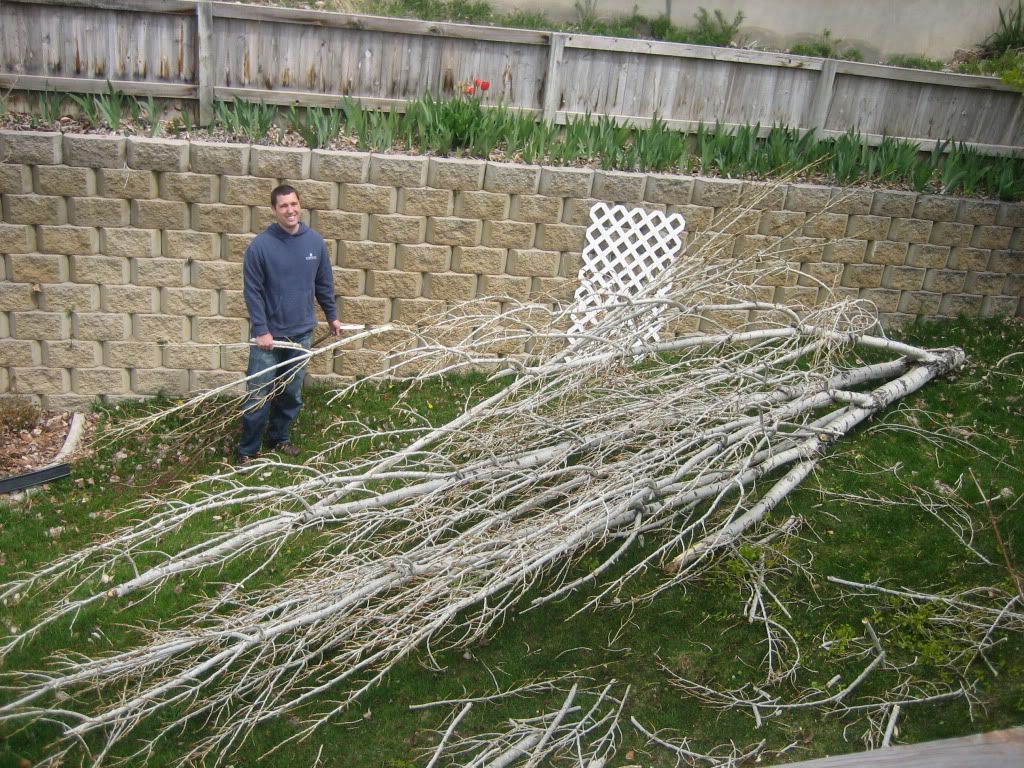 A byproduct of our fun and games was the huge pile of twigs and branches that have sat to the side of my house all summer long. I hate it, but since I'm the one that has to move it, there it has sat.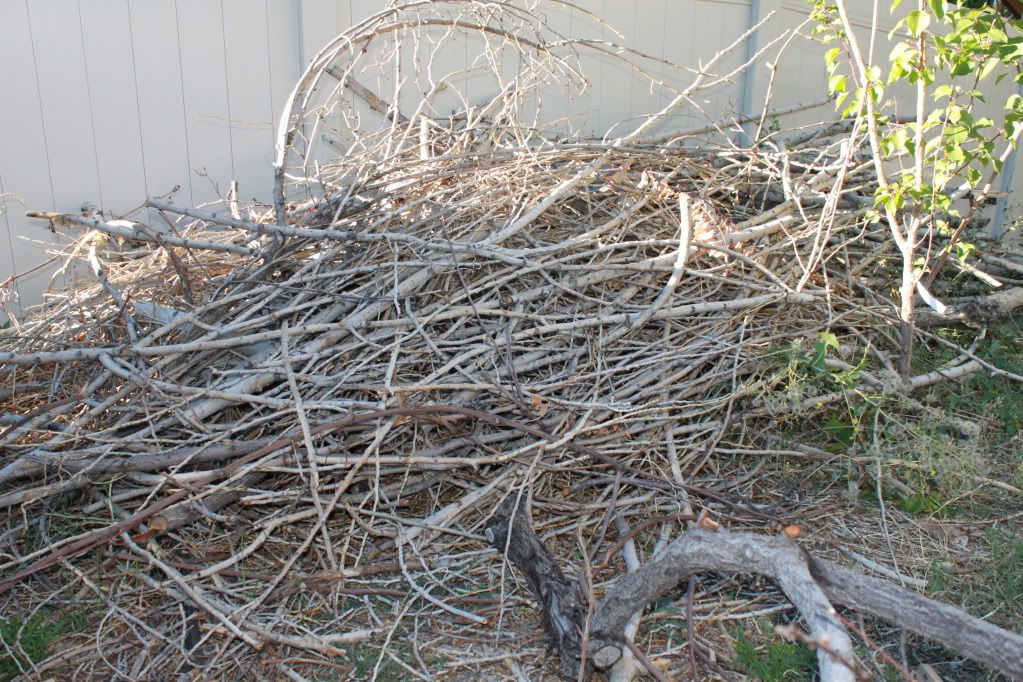 So, how awesome was it when Whitney fell in love with a wood filled fireplace she came across in a magazine? I got to kill two birds with one stone – cut wood for the fireplace, and start to hack away at the beaver dam in my yard. I'll be expecting thank you notes from the neighbors.


I measured 12" pieces of the branches of various diameter, making a clean cut on both sides of the log – we wanted them to fit neatly all lined up in their new home, not jutting out various lengths. I also trimmed off some of the small stubs, to make stacking a bit easier and more uniform.


Stacking the logs took a bit longer then we anticipated, especially with the help of an excited three year old trying to stack it himself and a whiny 21 monther that didn't like the sound of the chop saw.


We finally managed to complete the project and snap a few photos. I think it's a much more manly version of the fireplace and I'm diggin' it.  Plus it's wearing our potpourri Halloween Tree.


Now that we've got that part done, I might be reconsidering if we'll keep this piece in the living room. I can already envision a flat screen TV above it in the master bedroom. Shhhh, don't tell Whitney.
This project was contributed by one of our fabulous readers! We love to share your projects with this great blogging community. So, if you have projects from kitchen renovation ideas to small bathroom remodels, overhauled and repurposed furniture, spray paint updates you name it please send it in! Thanks for reading Remodelaholic!
More delightful fireplaces:
Remodelaholic is a participant in the Amazon Services LLC Associates Program, an affiliate advertising program designed to provide a means for sites to earn advertising fees by advertising and linking to amazon.com. Please see our full disclosure
here
.