Thanksgiving dinner is over, Black Friday has passed, and Cyber Monday is upon us. I guess we've officially kicked off the holiday season, haven't we? It's time to start counting the days to our favorite holidays.
Christian tradition calls the four weeks leading up to Christmas Advent. Advent celebrations vary quite a bit from country to country, but doing something to mark or count the days before Christmas is a big part of Advent, no matter where you live. Nowadays, most activities that help us mark off the days until Christmas are referred to as Advent calendars. It's a fun tradition you can start anytime, and it's especially useful for families with young children. I've collected dozens of ideas for you to use, in case you want to start right away.
Best Christmas Advent Calendars
I would love it if you would use the Pin It button (above) to share this post with your friends on Pinterest. If you'd like to pin individual photos, please follow the links provided and pin directly from the source. That's good Pinterest etiquette!
Giant Advent Callendar from Oh Happy Day
Coca Cola Crate Advent Calendar from Life as a Thrifter
Advent Garland from My House of Giggles
Cherries and Christmas Tree Advent Calendar from Julie Ree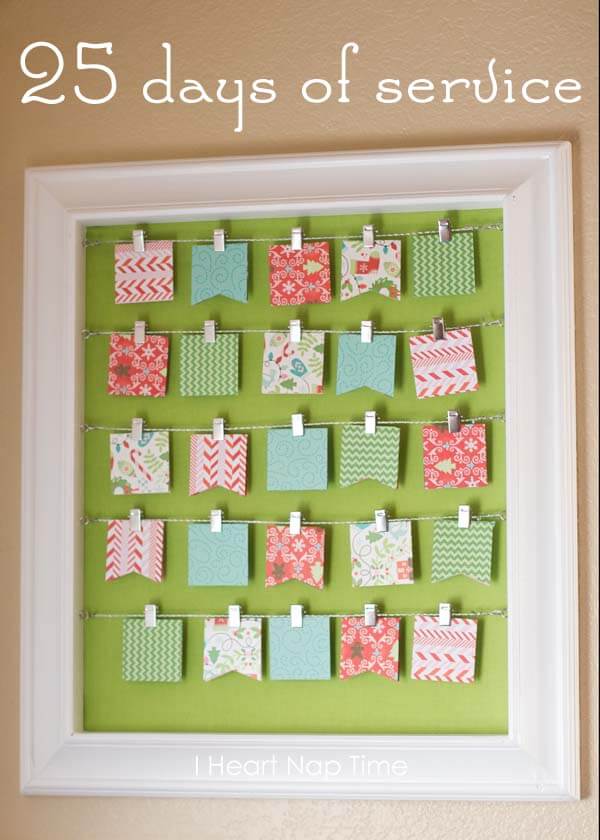 25 Days of Service Calendar from I Heart Naptime
Burlap Advent Calendar from On Sutton Place
Dollar Store Bucket Advent from Infarrantly Creative
Nativity Scene Advent from Better Homes & Gardens
Holiday Box Advent from Oh Happy Day
Falling Star Advent from Design Sponge
Advent Wreath from Dandee Designs
Pine "Cones" Advent Calendar from Spoonful
Felt Countdown Calendar from Purl Bee
Mini Tree Advent Calendar from Oh Happy Day
Envelope Advent Calendar from A Few things from My Life
Silks and Buttons Advent from Miss Gioia
Baby Sock Advent Calendar from Martha Stewart
Type Tray Turned Advent Calendar from from That's My Letter
Iron On Transfer Advent Calendar from Oh Happy Day
Reindeer Advent from Little Scandinavian
Advent Activity Calendar from Oh Happy Day
Washi Tape Advent from Stylizmo
Weathered Wood Advent Calendar from All Things Thrifty
Magnetic Advent Calendar from Twig and Thistle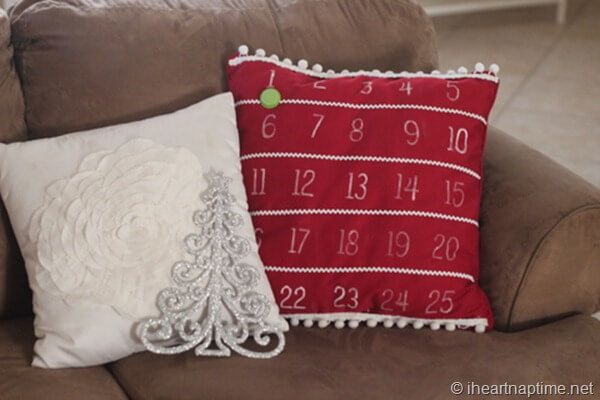 Christmas Advent Pillow from I Heart Naptime
Featured picture and Pinterest friendly picture from Better Homes & Gardens.