Nothing beats the deliciousness of crisp, homemade fried chicken. Enjoy this buttermilk fried chicken for brunch or dinner!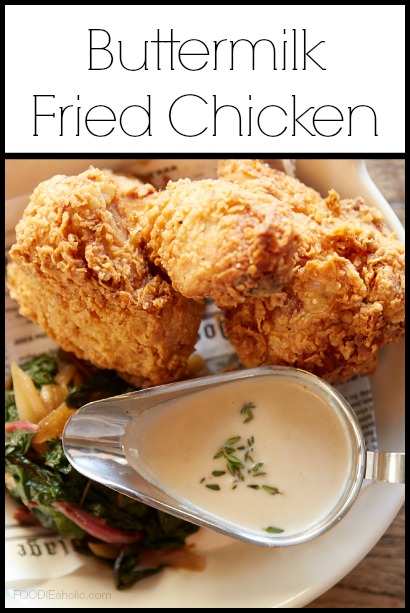 Buttermilk Fried Chicken
Buttermilk Fried Chicken
Recipe Type
:
Chicken & Poutlry
Author:
Ingredients
1 3-31/2lb. Organic chicken
2 cups buttermilk
4 cups flour plus 1/2 cup
2 tbsp. hot sauce
1/2 tsp. cayenne pepper
1 tsp. garlic powder
1 tsp. onion powder
1/2 tsp. black pepper
2 tsp. kosher salt
3 qts. canola frying oil
2 quarts brine*
Instructions
Rinse chicken in cold water.
Cut into 8 pcs. Remove both wings, separate drumsticks from thighs at joint, remove breasts and cut each into 2 pieces.
Submerge in brine* for 6-8 hours or overnight.
Remove from brine and place on a cooling rack and return to refrigerator to dry.
Combine the buttermilk with 2 tbsp. of hot sauce and 3/4 cup flour with a whisk.
Heat canola oil in a large cast iron skillet to 325F using a thermometer.
In a large bowl coat the chicken pieces in buttermilk mixture and leave to marinate for up to 1 hour.
Combine 4 cups of flour with the onion powder, garlic powder, cayenne pepper, black pepper, and salt.
One piece at a time, remove the chicken pieces from buttermilk and dredge in the flour mixture.
Carefully place 4 pieces of chicken into hot oil and fry for 10-12 minutes or until the internal temperature reaches 165F with a digital thermometer and the crust is golden brown. Repeat with the remaining 4 pieces.
Notes
[b]*Brine Recipe[/b][br]5 cups lukewarm water[br]1/2 cup sugar[br]1/2 cup kosher salt[br][br]Combine all ingredients and whisk together to dissolve salt and sugar.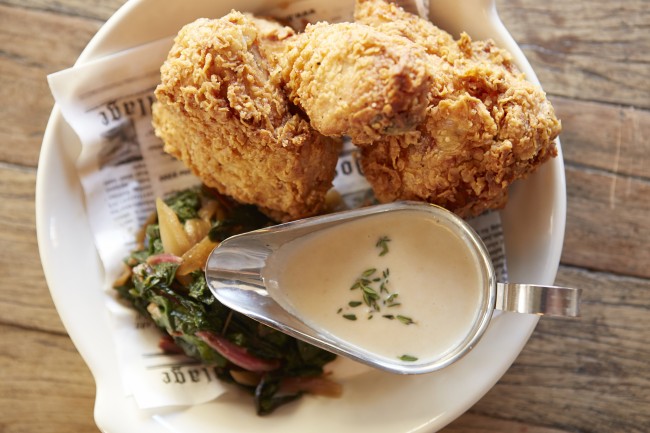 This beautiful and delicious recipe comes to us courtesy of The Derby Restaurant.