In the Leafy Treetops; Tree Mural; Guest
This is such a great idea and so fun: Bonus, you can have it match the bedding in your child's room! This is what Amy of
Hey Now, Whoa Now
Did: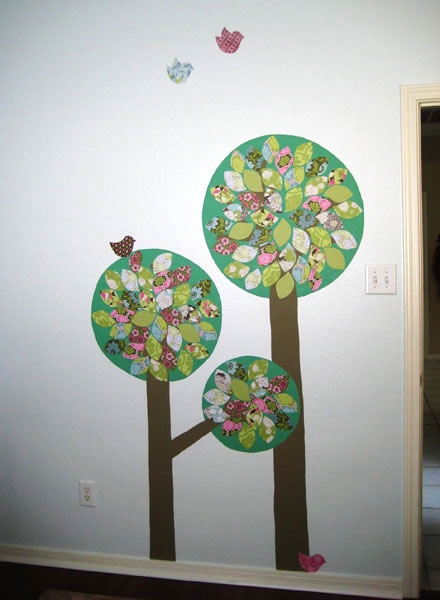 Wanna hear my favorite story, ever?
As a kid, I don't think anyone who knew me would disagree, I was sociable and bossy. Emily Wilson was pretty much my opposite: quiet and a bookworm. Which must explain why we made such good friends.
Though
I
claim I'm not bossy anymore, I guess I've never stopped trying to boss Emily around. I moved away in 5th grade, but we stayed in touch, and when it was time for college, I wanted her to come to two-year women's school,
Cottey
, with me. Lucky for me, she did, and we had a blast as reunited roomies both years.
Then, a few years later, I was living in Texas and Emily was in Nebraska. I wanted her to move to Texas. This time my powers of persuasion didn't work.
Or did they?
Emily was the maid of honor in Dennis and my wedding, in Texas. David, Dennis' brother, was our best man. The two walked down the aisle together, then partnered up for the swing dance lessons at the reception, and exchanged emails afterward. Two years later, they got married. Now Emily is my sister-in-law! We have the same last name. And she lives in Texas.:)
What does all this have to do with those trees? Emily and David are having a baby… Evelynne Gail. Em wanted some fun trees in the nursery, so we did some research, mashed a few ideas together for our own design, and got busy. I drew the trees on with pencil (used a hula hoop and flying disc as circle patterns), and painted the trees out of house paint (used the sample jars you can have tinted). Emily cut the leaves out of Amy Butler scrapbook paper (free pattern download below). And then we tag-teamed gluing the leaves on with fast-drying scrapbook glue, though if I did it again, I'd try Melanie's idea of using double-stick fusible webbing over at
Sewing for Scarlett
.
The whole project took about half a day. Now all the nursery needs is a baby!
This is so perfect!
And I love the story!
Cassity Kmetzsch started Remodelaholic after graduating from Utah State University with a degree in Interior Design. Remodelaholic is the place to share her love for knocking out walls, and building everything back up again to not only add function but beauty to her home. Together with her husband Justin, they have remodeled 6 homes and are working on a seventh. She is a mother of four amazing girls. Making a house a home is her favorite hobby.