Hey hey!  Happy June!  It's Karah again here from the space between.  Last time I was over here we were talking about budget friendly curb appeal ideas and since then I have seen all different kinds of creative container garden ideas around and wanted to put them all in one place for easy reference.  You know, for that day when we all find the time to create the container gardens of our dreams.
Creative Container Gardens
1. Go eclectic with a mix of weathered terra cotta pots, galvanized buckets and even an old stump with a hole in it like we did as part of our complete DIY front porch makeover.
2.  Add big pops of color with the planters instead of the plants.
3.  DIY Modular Geometric Concrete Planters
4. Upcycle an old chandelier.
5.  Turn a dresser into a container.
6. Vintage Bicycle Planter
7. How about a vertical garden with these Mason Jar Wall Planters.
8.  Antique Mop Bucket Containers
9. Vintage Tin Containers – I found an old tea tin in the attic of our old house, would be so cute with a succulent in it on the kitchen window sill.
9.  Another great alternative to the Hanging Garden.
Sometimes an afternoon piddling in the dirt this time of year is exactly what I need to do for fun. Yep, we're having wild and crazy fun over here.  🙂 If you're looking for more, you can check in on our other "wild and crazy fun". Our new rope and wood accent wall in the guest bedroom.
Upcycle an old post into a fun lantern for your porch or yard.
If you've ever considered adding uplighting to your trees you'll be happy to know that DIY outdoor uplighting is easier than it looks.
********************************************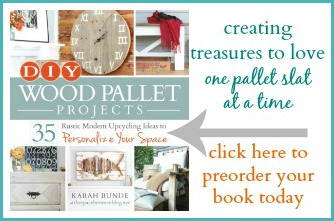 ———————————————-
Love gardening like I do? Read about WHY I garden (it's about more than growing plants!) and then gather more gardening ideas:
Remodelaholic is a participant in the Amazon Services LLC Associates Program, an affiliate advertising program designed to provide a means for sites to earn advertising fees by advertising and linking to amazon.com. Please see our full disclosure
here
.