Budget Friendly Curb Appeal Ideas
Hey hey! It's Karah here again from the space between. We're finding ourselves focusing on updating the exterior of our house these days as we work toward a full repainting of the whole house. But with many little prep steps still ahead of us it has me constantly searching for budget friendly curb appeal ideas to implement as we go. You know, it's like camouflage … a pleasant distraction for the eyes to hopefully detract from the rest of the house that it still a serious work in progress.
Spring is the perfect time to show your house some curb appeal love, it's like spring cleaning for the exterior. So here are a few fun ideas that have made a big impact on our little front porch.
Start with the front door and pick a color that sets the tone for what you want your house to say.
In addition to painting the front door we also installed 6 glass panels, and I found great inspiration for the color by walking around our neighborhood and shared a few fun color combinations from Key West front doors here.
An often overlooked update that won't take more than an evening is to repaint or stain the front threshhold.
If you have a second take a quick look at your own, it's amazing how quickly they get scuffed up and then check out our before and why we decided to stain instead of paint the threshold here. You can also see a bit of what the door looked like before paint and glass panels in that picture above. It's amazing how these small updates have changed the whole feel of our house as you're walking up to it, it's so easy to forget what those befores looked like. 🙂
While taking an afternoon during a recent visit from my mom to have a little fun and decorate the front porch, one little change we made really pulled it all together.
Plants!!
A couple small pots on a table and a grouping behind a rocking chair add visual interest and the right touch of life. Use rusty old boxes to add height or regular plates under your pots to collect water so they don't damage anything you set them on if you don't have any real planter trays. Mix and match the pots, no need to worry about perfection, the variety is fun. Then you could stick with all green plants with the same color flowers (if any flowers at all) to keep the eclectic look cohesive.
And the biggest update so far … the blue ceiling.
The blue ceiling was new to me before moving to Key West but we've come to learn that it is incredibly common around the south. And I absolutely love the way it looks. We actually installed beadboard between our porch ceiling joists because the old ceiling was in bad shape, but you could easily just update the color. Rumor has it that the blue ceiling serves a couple of purposes 1) it looks like the sky so wasps don't nest, we can attest that is true and 2) it prevents evil spirits from entering the house. I have no physical proof, but so far no evil spirits here. 🙂 Check out our tips and tricks for installing beadboard on the ceiling.
A few simple updates like a new light and new front door hardware can make big impact as well. Look for similar finishes for both so they look like they were meant to go together. And for an upgraded amenity try a keyless entry system. We just installed our first one and seriously could not love it more.
Find out why you, too, will love a keyless entry for your front door.
One other way to pull a space (even an outdoor one) together is to pick an accent color and have fun with it. I had it in my mind for the longest time that I wanted to paint the front door aqua, but I could just never quite get myself to commit to it. Then I realized that I didn't really want the color for the front door, but I wasn't ready to let it go entirely, so I painted a chair that is the perfect seat for the little succulent garden mixed in with some coral.
An aqua vase, not even the same shade of aqua, carries the subtle accent color to the other side of the porch. And I even found some fabric that will magically become accent pillows. Somehow.
A few fun accessories which are a combination of clearance finds, old treasures and a few items picked up along the side of the road complete the look. Scour your own things to find items that just might be the perfect accent to give the front of your house some curb appeal.
And you can find all of the DIY tutorials for the projects large and small (like new hardiboard siding installation, learning how to use a paint sprayer and how to clean oil based paint out of your paint brushes) on the home improvement page at the space between. And let me know, what are your favorite ways to increase the curb appeal? Do you decorate your porch like another room of your house? Please tell me you love free road side finds, too?!?!
********************************************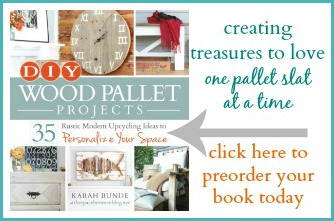 ————————————
Read more tips and easy ways to add curb appeal in this post and this one, or get even more curb appeal ideas, like fancying up your mailbox or adding some exterior window treatments, like these easy wood shutters we taught you how to build last year!