10 Great Examples of Family Schedules
Follow along with Get Organized Week by clicking here or on social media with #GetOrganized. Or share your own organization tips with #GetOrganized on social media.
Creating a family schedule can often be a good way to keep track of the many things that keeps everyone busy throughout the day. But since every family has unique events and activities, the key to following that schedule is finding just the right one to fit your family's needs. Here are 10 great family schedules. Even though each one is different, all are good examples of ways to keep a family's day planned and organized.
If you have little ones who cannot yet read, a schedule with pictures, instead of words, is an easy way for everyone in the family to follow along.
This is a different take on the Dry-Erase Board, and almost becomes a work of art on the wall. Simply frame colorful paper that complements the decor of the room. Then write on the glass with a dry-erase marker to keep all the days of the week planned out.

For the family where just one schedule won't do, make a binder to keep the various calendars, plans, and lists together. This is a great way to keep it all in one place and easy to find when needed.
Make a large daily calendar on a poster board — if it's big, you can't miss it — and create a column for each person in the family. Then fill out each activity on a Post-It note. If the schedule needs to be rearranged later (say now Dad has to take the kids to soccer because Mom has a meeting that will run late), the events can easily be changed around by removing the Post-It from one person's column and moving it to the new place.
Using an app like Cozi is an easy way to keep the family schedule at your finger tips. There are multiple websites that offer family calendars, just find the one that is the easiest for you and your family to use.
Assign each member of the family a color. This way each person can know what they need to be doing at a certain time by looking for their color on the schedule. It also prevents the need to write out the same activity multiple times, if more than one member of the family is also doing the same thing.
Clipping information onto a board (with colorful clothes pins) will keep all schedules easy to read at a quick glance.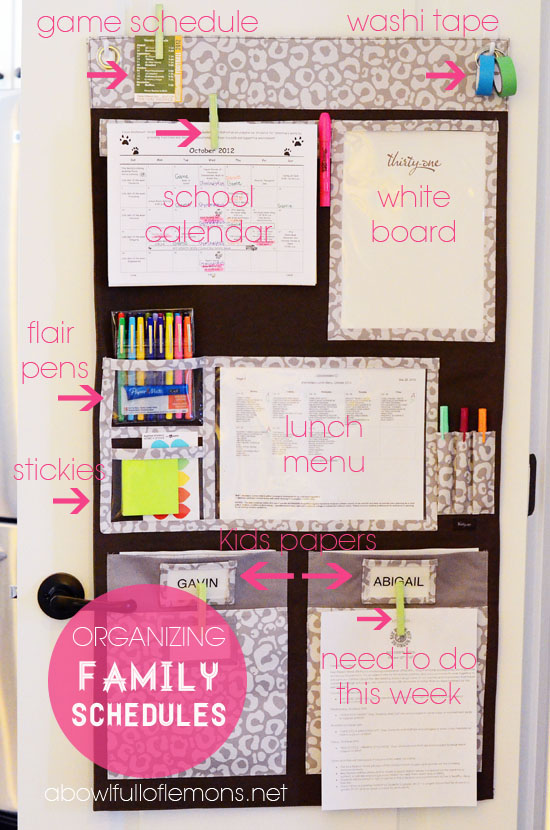 Get creative with your family schedule. One way is to convert an old window with chalkboard paint into a handy way to jolt down the week's events. There is even left over space for a grocery list and extra things to get finished.
With young children or during certain parts of the year, your family schedule can be predictable. Add some style to the day by typing up your family's daily to-do list and printing it out on a color printer. Framing it gives a finished look to the timeline.
For those families that would like the ease of a pre-made planner, there are several on the market that can get any family schedule of the right track to being organized.
Feature image via Maker Crate
Looking for more ways to keep your family organized? Check out these ideas:
I'm Frances. I am a mother, a wife, and a community volunteer. I work as a scientist by day and moonlight as a blogger. Making lists helps me keep everything on track. While I have a good life, there is always room for improvement. Join me as I decorate, organize, and try new things over at my blog Improvement List.