Beautiful Office Storage Ideas
Hey Everyone, this is Traci from Cleverly Inspired. Have you crawled out from the massive storm of wrapping paper? We had a very Merry Christmas in our house…and are feeling very blessed. I think many of us look to get organized in the New Year…and I thought I would round up some inspiring pictures to get you creative, organizing juices flowing….
I think my office is going to go high on the priority list for projects this year. I got a fabulous new computer with a 24 inch monitor….it is so snazzy…it needs a snazzy desk 🙂 I love the wood work in the above picture…and cubbies seem like a smart idea to hold paper, fabrics and craft supplies…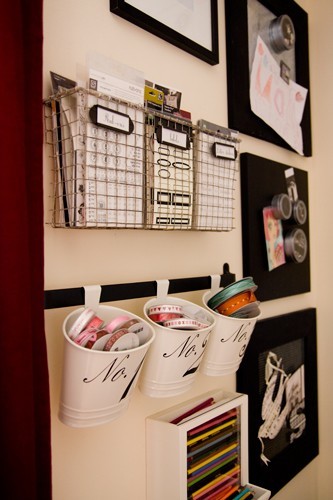 This rail system seems like it would be easy to make and very kid friendly…
A chalkboard in the kitchen will keep list and calendars close. Makes so much sense on the side of a cabinet.
I think this picture is my favorite. The space isn't that big but it so well planned. The deep brown on the wall with the white trim work is fresh and lively. I love the use of bulletin boards and the rail for smaller items to be close at hand.
What is the space that you want to get organized this year?? Any good tips for me?
Cassity Kmetzsch started Remodelaholic after graduating from Utah State University with a degree in Interior Design. Remodelaholic is the place to share her love for knocking out walls, and building everything back up again to not only add function but beauty to her home. Together with her husband Justin, they have remodeled 6 homes and are working on a seventh. She is a mother of four amazing girls. Making a house a home is her favorite hobby.