Brown Butter Cake with Poached Pears
This buttery, delicious dessert will soon become a family tradition in your home! Try this delectable brown butter cake with poached pears. You'll be amazed at the flavors!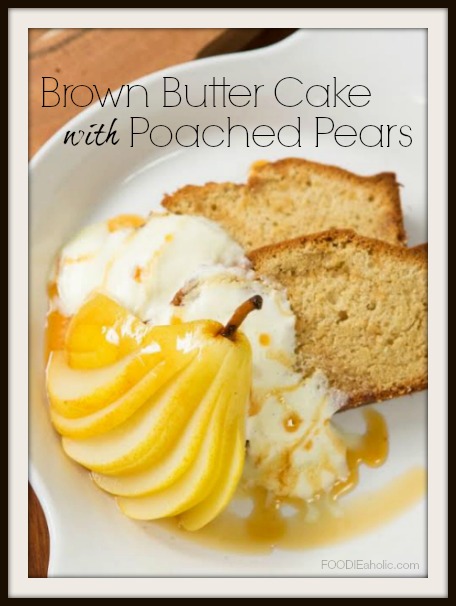 Brown Butter Cake with Poached Pears
Brown Butter Cake
Author:
Ingredients
2 1⁄4 sticks unsalted butter
2 cups sifted cake flour (not self-rising; sift before measuring)
1 teaspoon baking powder
1⁄2 teaspoon salt
1⁄2 cup packed light brown sugar
1⁄2 cup granulated sugar
4 large eggs
1⁄2 teaspoon pure vanilla extract
Instructions
Preheat oven to 325°F with rack in middle. Butter and lightly flour an 8 1/2-by 4 1/2-inch loaf pan.
Heat butter in a 10-inch heavy skillet over medium heat until it begins to foam, then you can turn the heat down to low. This will help to control the browning process, when the milk solids turn color to deep brown, it will be done.
Transfer to a shallow bowl and chill in freezer until just cool, about 10 minutes.
Whisk together flour, baking powder, and salt.
Cream together the cooled brown butter and sugars with an electric mixer until fluffy, about 2 minutes.
Add eggs 1 at a time, continue to mix well after each addition. Mix in vanilla.
At low speed, mix in flour mixture until just incorporated.
Transfer batter to pan, smoothing top, then wrap pan on counter to settle batter.
Bake until golden-brown and a wooden pick inserted into center comes out clean, 60 to 75 minutes.
Cool in pan 30 minutes, then invert cake onto a rack and cool completely, right side up, 1 hour.
Poached Pears
Author:
Ingredients
2 cups white wine*
1 cup sugar
1 lemon, juice and zest
1⁄4 star anise
1⁄2 stick cinnamon
1 vanilla bean, split
20 each black peppercorns
4 ripe pears, Bartlett, Bosc or Sekel
Instructions
Combine all of the ingredients except for the pears, in a small sauce pan and bring to a boil.
Add the pears and cook for about 25 minutes or until tender when pierced with a knife.
Cool the pears in the poaching liquid.
Remove cool pears.
Return liquid to a pan then heat to reduce to a syrup.
Cool. Drizzle over pears and cake (see recipe above). Top with whipped cream.
Notes
*You can substitute white grape or apple juice for the white wine.
Special thanks to LongHorn Steakhouse for submitting this beautiful dessert recipe! Also try their Mushroom Stuffing.