Chocolate Carrot Cake Cupcakes
Do you crave sweet baked goods but are trying to watch your sugar intake? Why not try a healthier variation of this sweet treat: chocolate carrot cake cupcakes!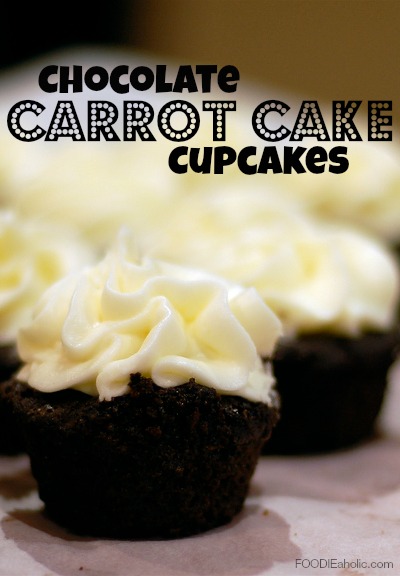 Chocolate Carrot Cake Cupcakes
Chocolate Carrot Cake Cupcakes
Author:
Ingredients
1 cup sugar
1 cup cocoa
2 1/2 cups white whole wheat flour
2 tsp. baking soda
1 tsp salt
2 tsp cinnamon
1 cup natural applesauce
1/4 cup oil
4 eggs (or egg substitute)
2 ripe smashed bananas
3 cups raw finely shredded carrots
1/2 cup milk
Instructions
Preheat oven to 350 degrees F.
In a large bowl, combine dry ingredients.
In a separate bowl, combine wet ingredients.
Stir wet ingredients into dry ingredients.
Line muffin tins with cupcake liners. Fill each 3/4 full.
Bake for 20 minutes.
Allow to cool. Top with cream cheese frosting (see recipe below).
Easy Cream Cheese Frosting
Author:
Ingredients
4 oz low fat cream cheese
1/2 tsp vanilla
1/4 cup butter
2 cups powdered sugar
Instructions
Beat all ingredients in a medium bowl.
Image found on Flickr.