This creamy bean, potato, and corn soup is the perfect healthy meal for that chilly fall evening. It's rich with the hearty tastes of the earth while fat-free evaporated milk provides texture, but not calories!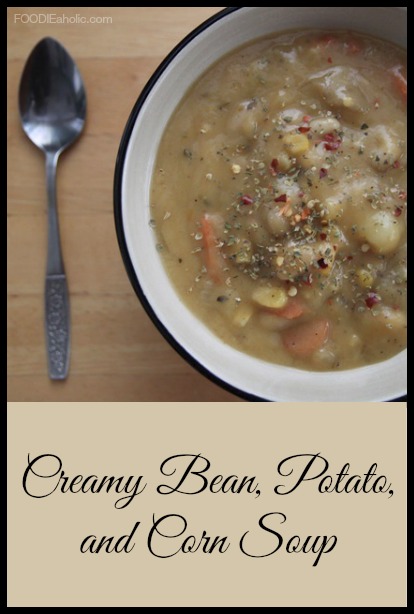 Creamy Bean, Potato, and Corn Soup
Creamy Bean, Potato, and Corn Soup
Author:
Ingredients
4 medium yukon gold potatoes, scrubbed and diced
1 tbsp. olive oil
1 onion, diced
2 cloves garlic, minced
2 carrots, sliced
1 can cannelini beans
1/2 cup frozen corn
2 tbsp. flour
2 cups vegetable broth
1 cup water
1 can (12 oz.) fat free evaporated milk
1 tbsp. oregano
1.5 tsp. LoSalt
1 tsp. pepper
1/2 tsp. crushed red pepper
Instructions
Put diced potatoes in large microwave safe bowl and cover. Heat 5-6 minutes or until fork tender.
While potatoes are cooking, heat large pot over medium heat and add olive oil.
Toss in diced onions, garlic, and carrots and cook 3-4 minutes or until softened.
Sprinkle in flour and stir until vegetables are covered and you don't see any white flour spots any longer.
Pour in vegetable broth, a little at a time, stirring constantly until it's all combined.
Add water, seasonings, beans, corn, and potatoes to pot and bring to a boil.
Let simmer 5-10 minutes or until veggies are tender and soup has thickened a bit.
Pour in milk and cook 5 more minutes until heated through.
Thanks to LoSalt for submitting this yummy fall recipe!
Remodelaholic is a participant in the Amazon Services LLC Associates Program, an affiliate advertising program designed to provide a means for sites to earn advertising fees by advertising and linking to amazon.com. Please see our full disclosure
here
.