Here's a fast dinner you can feel good about serving your family. These Sloppy Cabbage Joes are not too sloppy, plus they have the added nutrition of the veggies as a bonus!
Sloppy Cabbage Joes
Sloppy Cabbage Joes
Author:
Ingredients
1 bag of cabbage coleslaw salad
1/2 c shredded carrots
1/2 onion (shredded or very finely chopped)
2 cloves garlic,
1 lb lean ground beef (or ground turkey)
dash salt
ketchup (to taste)
mustard (to taste)
2 Tbsp brown sugar
Instructions
Spray a large skillet with olive oil. Add the bag of cabbage and 1/4-1/2 c water.
Add carrots, onion, and garlic. Stir and cover to steam about 4-5 minutes, then remove the lid and let the water steam out.
Add the raw meat and break it up as it cooks.
When the meat is cooked, add the salt, brown sugar, and ketchup and mustard to taste.
Serve on whole wheat buns.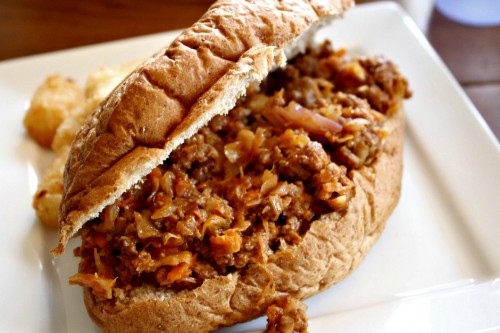 Remodelaholic is a participant in the Amazon Services LLC Associates Program, an affiliate advertising program designed to provide a means for sites to earn advertising fees by advertising and linking to amazon.com. Please see our full disclosure
here
.