Nothing says summer like a good old-fashioned BBQ, but it can get tricky to grill for your vegetarian guests. Try this juicy veggie burger at your next backyard bash!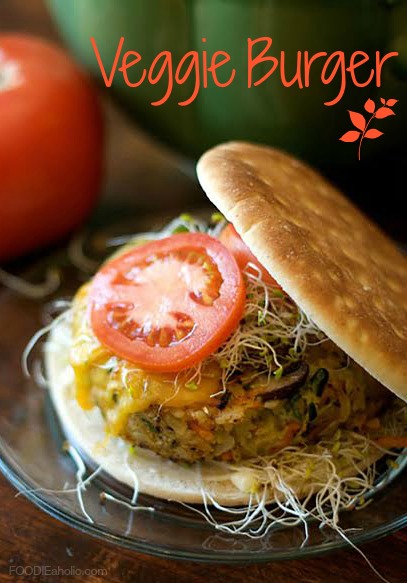 Veggie Burger
Veggie Burger
Author:
Ingredients
1 ½ cups cooked brown rice
8 oz pkg baby Bella mushrooms, thinly sliced
1 cup matchstick carrots
2 medium yellow squash, thinly sliced
2 medium zucchini, thinly sliced
1 medium onion, finely chopped
1 cup panko breadcrumbs
1 tsp Italian seasoning
1 tsp salt
½ tsp pepper
1 egg
6 slices sharp cheddar cheese
4-6 whole wheat sandwich thins, toasted
Mayonnaise
1 cup alfalfa sprouts
2 tomatoes, thinly sliced
Instructions
Cook rice ahead of time. Set aside.
Combine mushrooms, carrots, squash, zucchini and onion in pan.
Add water to cover; bring to a boil over med-high heat; boil 8 – 10 min, or til tender. Drain. *Place in the refrigerator and allow cooling. Squeeze dry.
Combine rice, breadcrumbs, Italian seasoning, salt, pepper, and vegetable mixture.
Add egg, stirring to combine.
Shape into 4 – 6 patties.
Cover and chill for at least 1 hour and up to 2 days.
Grill patties over med heat for 5 – 6 minutes per side, or until patties are heated through.
Top each with 1 slice cheese.
Spread mayo over sandwich thin.
Top with sprouts, tomatoes, veggie patty, and top half of sandwich thin.
Thanks to eMeals for submitting this great recipe. Check out more of their great grilling recipes below, as well as their Summer Grilling Tips!
Balsamic and Ginger Glazed Plums
Grilled Okra and Tomato Skewers