Benjamin Moore 2015 Paint Color of the Year: Guilford Green
Hi there Remodelaholics! It's Cyndy from The Creativity Exchange back with my monthly paint color post.
If you happened to miss my post last month, I did a Color Spotlight and highlighted a beautiful transitional color called Healing Aloe from Benjamin Moore that you can check out here.
For my post this month, I wanted to talk about the 2015 Color of the Year from Benjamin Moore called Guilford Green that is a yellow based mid-tone green that is very rich in depth:
Guilford Green
Every year, Benjamin Moore chooses one color that the company feels best represents the color trends and the direction consumers are heading in paint colors. Guilford Green is the 2015 color they picked and I agree, greens with neutral undertones that have a very slight yellow seem to be right where consumers are heading.
I have always loved this shade of green and think it looks so good combined with a very dark color or a white. By doing this, the boldness of the slight yellow undertone is balanced and the contrast and bold difference between the two colors becomes very complimentary. Guilford Green is a great example of how to incorporate a bolder color into your home but diffusing and neutralizing it by combining and grounding it with a very dark or brighter white.
For instance, you can see below just how stunning Guilford Green looks contrasting with either a black like Universal Black or a rich dark navy like Benjamin Moore Washington Blue:
on the other end of the color spectrum, Guilford Green looks amazing with a bright or an off white like Chantilly Lace or Moonlight White: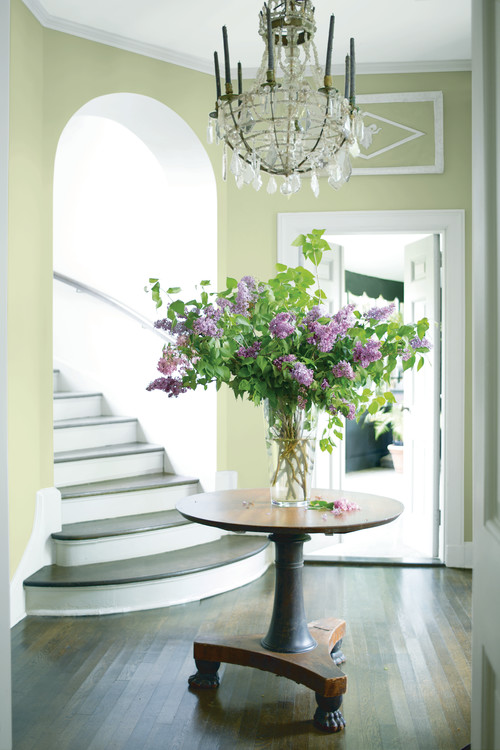 If you're looking for a way to incorporate a little more color in your home but want to play it safe, as you can see, Guilford Green paired with dark or white is a great color to consider. Guilford Green is also a transitional color and it has a balanced mix of warm and cool tones, so it will work with any color wood flooring, trim or tile colors.
Here are some other examples of Guilford Green painted in different rooms of the home and different lighting situations, so you can just how versatile this color is:
Guilford Green in the bedroom:
in the dining room:
Guilford Green is gorgeous as a cabinet color in a laundry room (by the way, this room has very little natural light):
also stunning in a kitchen:
So what do you think? Can you see yourself using this color in your home somewhere?
By the way, if you're looking for more great transitional colors that are versatile, I pulled together a list of the most popular and versatile paint colors that I call "all-star" colors on my blog here, if you're interested.
Thank so much for stopping by and I'll be back next month with more paint inspiration. In the meantime, I would love it if you stopped by my blog The Creativity Exchange for tons of paint and organizing projects and ideas.
Cyndy
———————————————
(click the photo to go to the post)