Beautiful Vintage Table Makeover
Good Morning Fellow Bloggers and REMODELAHOLIC Enthusiasts!
I am excited to be blogging with you today as a Guest Post for Cassity and Justin…..3 CHEERS for these 2 and all the information, ideas and inspiration they give us…..How many times have you asked yourself….."How do I do such and such"?…..Your answer is probably like mine…"I'm sure, REMODELAHOLIC has covered that"! Let me go see! I want to THANK Cassity for giving me the opportunity to show you one of my projects I completed a few months ago!I'm Lisa, from
A Vintage Vine
…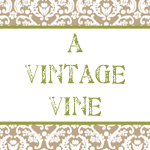 Here is a TEXAS SIZED invitation to visit me over there!…Most days, you will find me tackling a variety of furniture makeovers, DIY projects and the occasional gardening projects.
Today, I am sharing one of those furniture makeovers projects…..A "Wisteria" like side table…Before it became this…
It started our like this…..A $9 vintage table from a local thrift store.
It obviously needed some TLC….Also known as sanding, repairing and stripping!
After the piece was stripped and sanded….I began the process of giving it the "Wisteria" look, which I define as an AGED, WORN look.
To achieve this aged and worn look I followed this process..
1st. Step…Applied Min Wax Water Base Wood Stain*Pickle White Wash Formula* (@HD)…with a sponge brush to the entire piece. I then wiped off excess with a rag. Let it dry according to the instructions on the can.
3rd Step……Hand sanded edges with 320 grit sand paper. TO ACHIEVE THE AGED LOOK of the white pickle stain…..I then saturated a rag with Min Wax Pecan Wood Stain (@HD)…and applied ONLY to the TOP of the table and FRONT OF DRAWERS and at the area where the drawer pulls go. I wanted those areas ONLY to have the worn AGED LOOK.
Finally, I drilled holes into the front of the drawers and added new drawer pulls from Hobby Lobby…at 50% off, knobs can always be replaced!
Here is a better view of the AGED and WORN look the pickling stain and regular wood stain, used together, gave this vintage table!
To seal the table I used a brush on clear matte poly sealer, also a Min Wax product.
Hope you enjoyed my project. Thanks again to REMODELAHOLIC for letting me share!
This project was contributed by one of our fabulous readers! We love to share your projects with this great blogging community. So, if you have projects from kitchen renovation ideas to small bathroom remodels, overhauled and repurposed furniture, spray paint updates you name it please send it in! Thanks for reading Remodelaholic!
Don't forget to check out the new GOOD MOOD (boards) today at and be sure to get your ready for tomorrows special link up!
Cassity Kmetzsch started Remodelaholic after graduating from Utah State University with a degree in Interior Design. Remodelaholic is the place to share her love for knocking out walls, and building everything back up again to not only add function but beauty to her home. Together with her husband Justin, they have remodeled 6 homes and are working on a seventh. She is a mother of four amazing girls. Making a house a home is her favorite hobby.