Grilled Okra and Tomato Skewers
Don't settle for just burgers on the grill this weekend. Wow your guests with these tasty Grilled Okra and Tomato Skewers as a showstopping appetizer or side dish!
Grilled Okra and Tomato Skewers
Grilled Okra and Tomato Skewers
Author:
Ingredients
½ pound okra pods, trimmed
1 pint cherry tomatoes
1 tablespoon olive oil
½ teaspoon salt
½ teaspoon black pepper
¼ teaspoon ground red pepper
Pinch sugar
1 garlic clove, minced
Instructions
Thread okra and cherry tomatoes alternatively on metal skewers.
Combine remaining ingredients in a small bowl, and brush evenly on vegetables.
Place skewers on grill rack coated with cooking spray and grill uncovered over medium-high heat for 5 to 6 minutes, turning halfway through cooking time.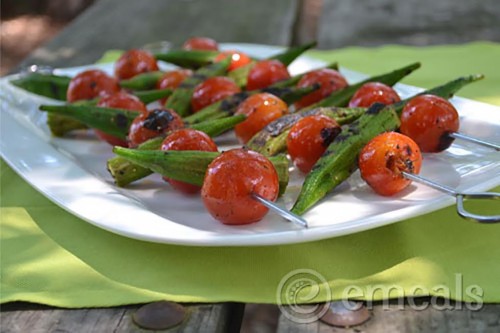 Thanks to eMeals for submitting this great recipe. Check out more of their great grilling recipes below, as well as their Summer Grilling Tips!
Balsamic and Ginger Glazed Plums