Healthy Fresh Strawberry Smoothie
My husband is literally in love with our Blendtec; if he doesn't use it at least twice a day, it is because we are out of town! And let's be honest, he tries to convince me to pack it up on those vacations and take it with us… I am NOT kidding.
Today while making lunch, I realized we had some strawberries that we needed to use stat or would need to throw away! So my blender-loving husband threw these healthy fresh strawberry smoothies together! It is definitely the perfect way to use up those strawberries that have a shorter life span left!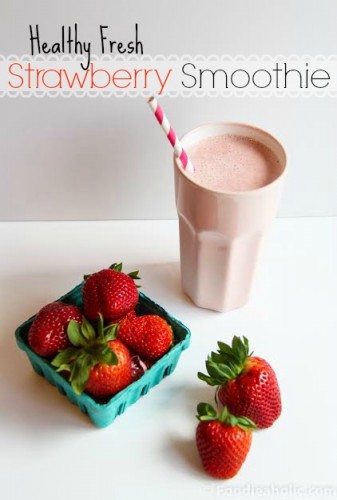 Healthy, Fresh Strawberry Smoothie
Healthy, Fresh Strawberry Smoothie
Author:
Prep time:
Total time:
Ingredients
1/3 cup Orange Juice
1 cup milk
1 cup Greek Yogurt (plain or flavored)
4 Cups Fresh Strawberries green leaves and all
2 cups ice
Agave nectar to taste
Instructions
Start by adding the first four ingredients to the blender. and blend until smooth.
Add the ice and blend.
Sweeten to taste, and serve immediately! Enjoy!
While we were at Costco, the shake guy was adding the whole strawberry to his shakes. Apparently the strawberry greens are good for you… So, I did a little searching and found this.
** Strawberry leaves are also of value! These can be taken as a tea or in capsule form (do not take if you have a strawberry allergy). The leaves can be used to help balance the acids in your digestive tract and are a good digestive tonic. Strawberry leaves can also help to prevent anemia and help with aches and pains of arthritis. They are rich in vitamins and minerals.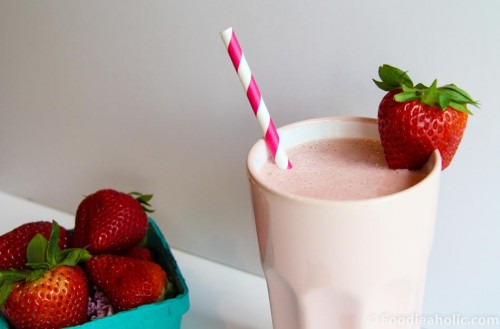 Check out these other great recipes for your Blendtec, featured on FOODIEaholic!