This recipe has been waiting in for me to make MONTHS- and technically I haven't made it yet, but I am going to (tomorrow) Sunday morning
I found the recipe on a blog called Picky Palate! I have been wanting to make it since I first saw it for two reasons,
1st my husband thinks breakfast food is the best food on the planet
2nd it is so stinkin cute – Look at it, this picture is from Picky Palate: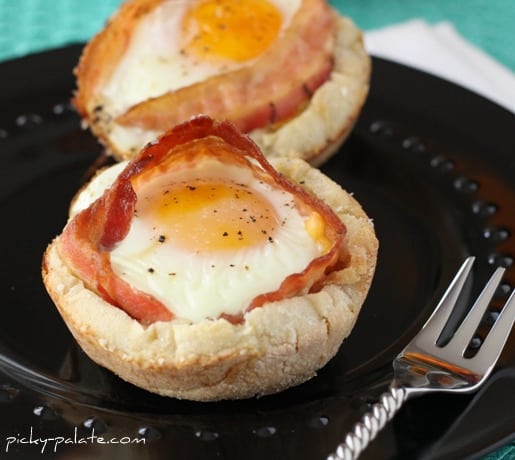 Isn't that the cutest thing you've ever seen.
She has photographed step by step instructions
at her blog
:
Individual Bacon Egg and Cheese Muffin Bakes
3 whole English muffins, split
6 slices ready cooked bacon, not microwaved, just right out of package
1/2 Cup shredded cheddar cheese
6 large eggs
Pinches of salt and black pepper
1. Preheat oven to 350 degrees F.
2. Press English muffins carefully into bottom of a 6 cup Texas size muffin tin.
* I don't have the large Texas muffin tins, so I just used some large oven proof ramekins.
3. Form a little circle with the bacon and place around inside of muffin.
4.Sprinkle center of muffin with cheese then top with a whole egg in each cup, keeping it inside the bacon ring.
5.Sprinkle with salt and pepper to taste.
6. Bake for 15-20 minutes or until egg is cooked through, not jiggly.
7. Remove from oven and let cool for 5 minutes before removing from muffin tin.
What have you been making lately?
Remodelaholic is a participant in the Amazon Services LLC Associates Program, an affiliate advertising program designed to provide a means for sites to earn advertising fees by advertising and linking to amazon.com. Please see our full disclosure
here
.