Individual Bacon Egg and Cheese Muffin Bakes; And Recipe LInk
This recipe has been waiting in for me to make MONTHS- and technically I haven't made it yet, but I am going to (tomorrow) Sunday morning
I found the recipe on a blog called Picky Palate! I have been wanting to make it since I first saw it for two reasons,
1st my husband thinks breakfast food is the best food on the planet
2nd it is so stinkin cute – Look at it, this picture is from Picky Palate: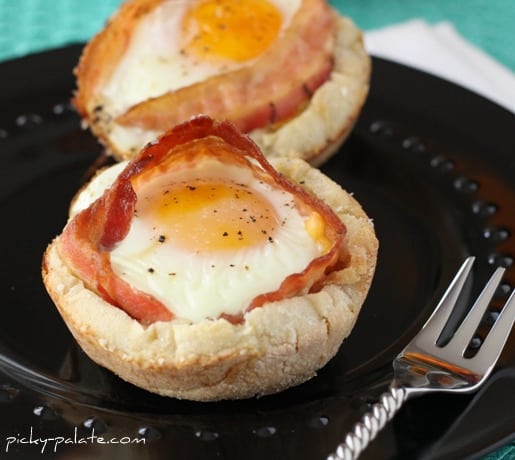 Isn't that the cutest thing you've ever seen.
She has photographed step by step instructions
at her blog
:
Individual Bacon Egg and Cheese Muffin Bakes
3 whole English muffins, split
6 slices ready cooked bacon, not microwaved, just right out of package
1/2 Cup shredded cheddar cheese
6 large eggs
Pinches of salt and black pepper
1. Preheat oven to 350 degrees F.
2. Press English muffins carefully into bottom of a 6 cup Texas size muffin tin.
* I don't have the large Texas muffin tins, so I just used some large oven proof ramekins.
3. Form a little circle with the bacon and place around inside of muffin.
4.Sprinkle center of muffin with cheese then top with a whole egg in each cup, keeping it inside the bacon ring.
5.Sprinkle with salt and pepper to taste.
6. Bake for 15-20 minutes or until egg is cooked through, not jiggly.
7. Remove from oven and let cool for 5 minutes before removing from muffin tin.
Cassity Kmetzsch started Remodelaholic after graduating from Utah State University with a degree in Interior Design. Remodelaholic is the place to share her love for knocking out walls, and building everything back up again to not only add function but beauty to her home. Together with her husband Justin, they have remodeled 6 homes and are working on a seventh. She is a mother of four amazing girls. Making a house a home is her favorite hobby.