Master Bedroom Surprise Update! Before and After
Master Bedroom Surprise Update! Before and After
Deployment Project # 86
MASTER BEDROOM REVEAL
FINALLY…
I am ready to show you my master bedroom. I know it took FOREVER….and to be honest, I STILL have a few things I want to tweak in here, but for the most part…It is COMPLETE!
But before I show you what it looks like now, I have to show you what it looked like before I started….
Here are the

BEFORE

pics

(get ready….LOTS of photos)
I just wasn't feeling the yellow walls and swags on the windows anymore…..
Ahhhhhhhh, I just LOVE it!!!!!
It feels brighter, calmer. My 8 year old even said, "Mommy, your room looks like a hotel room now"….I am assuming she meant a LUXURY hotel room, right?!?! 🙂
Here is another view of the OLD room..
..I was trying out paint samples (hence the swatches on the wall)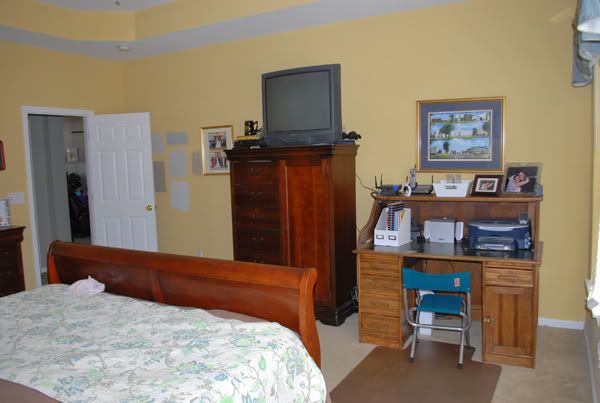 …and the

AFTER

of the same space….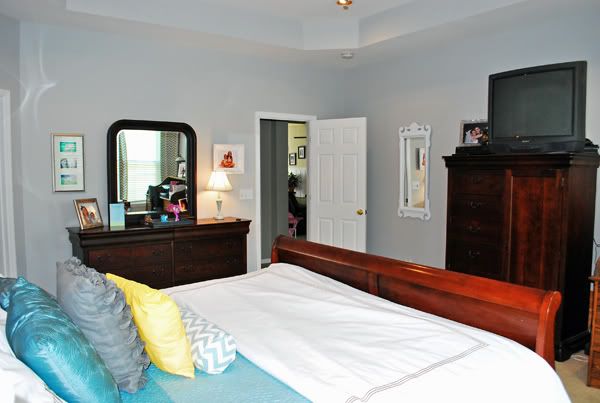 BEFORE…
…AFTER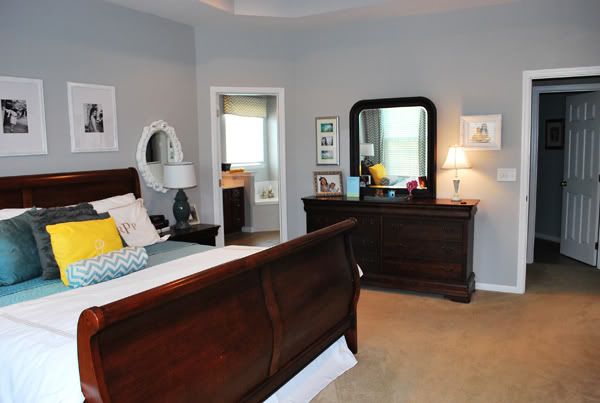 I love how the gray paint (Stonington Gray by Benjamin Moore) looks. I hit a home run with this color!!!!
And the good news is, I can change up the bedding color if I want and the walls will match….
the yellow was soooo hard to match it with anything!!!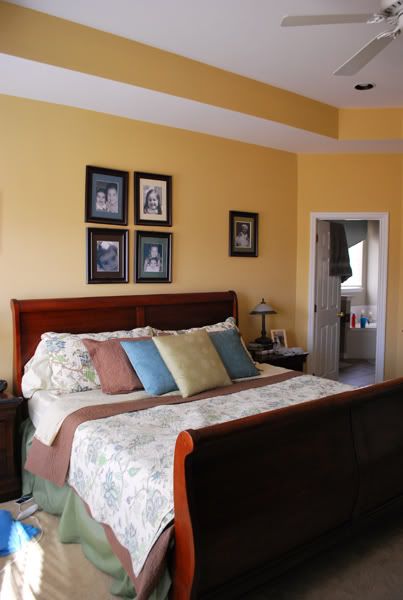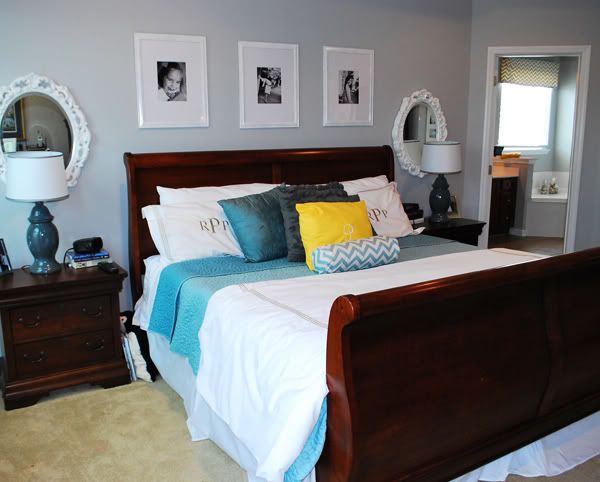 I made these swags a few years back….but had grown tired of them. The windows still looked bare, even with the swags.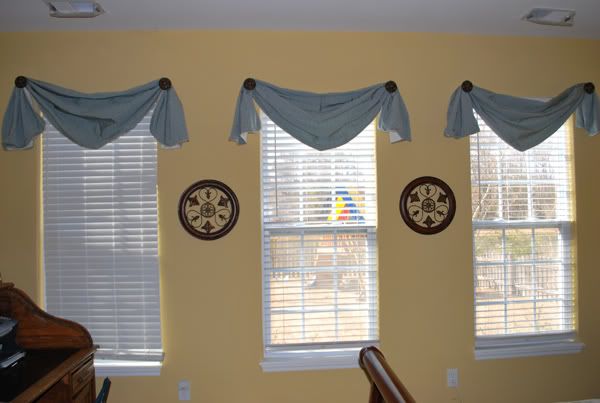 I hung this chevron fabric to make the walls look taller and more sophisticated.
Another BEFORE shot…
….and the AFTER. My plan is to put a chair here in this space under the mirror, but I just haven't gotten around to that yet….
(You can read about the mirror
HERE
)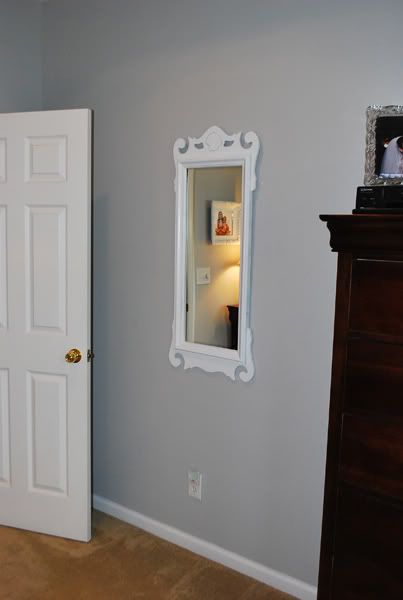 Here are a few more photos of the room…. I am just so happy with the way this space turned out!
One of my favorite features of this room are the 2 matching mirrors I hung above the nightstands. I LOVE it!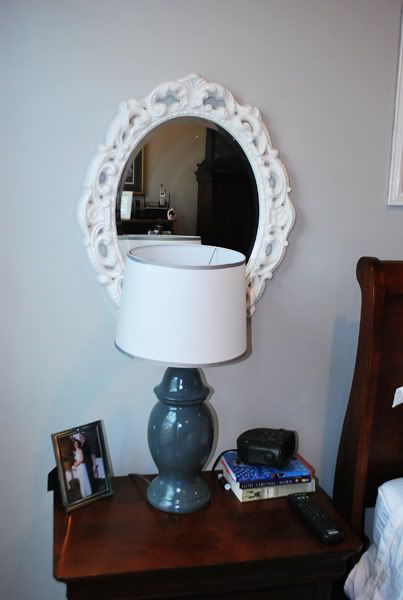 (Read about the lamp redo
HERE
)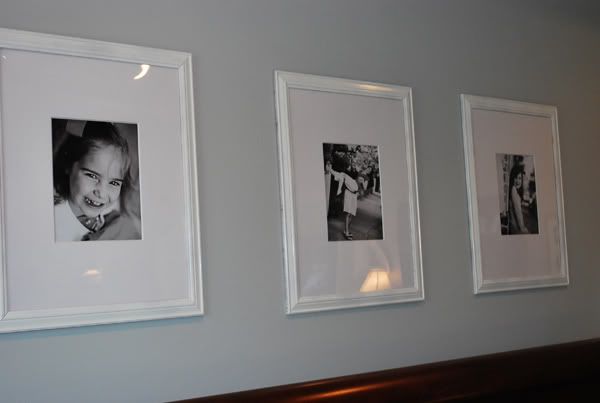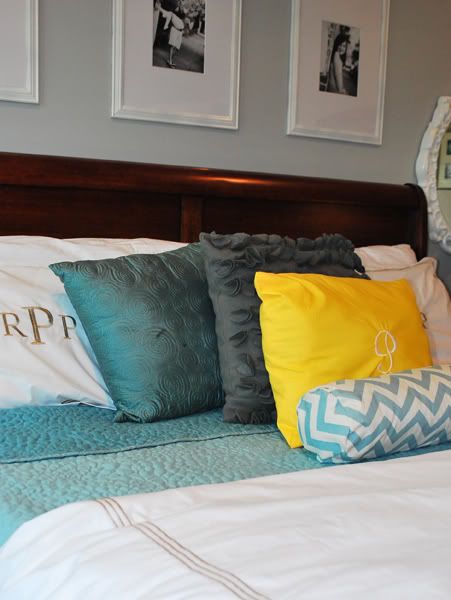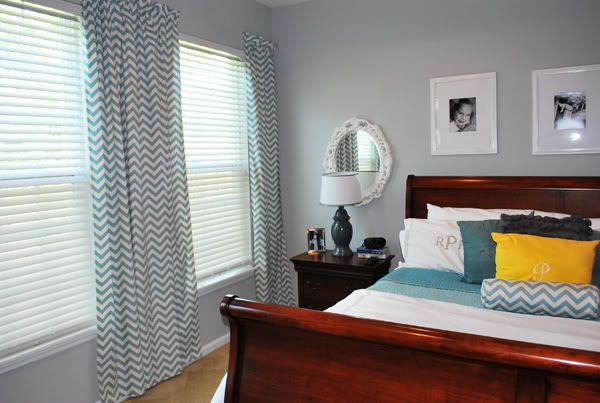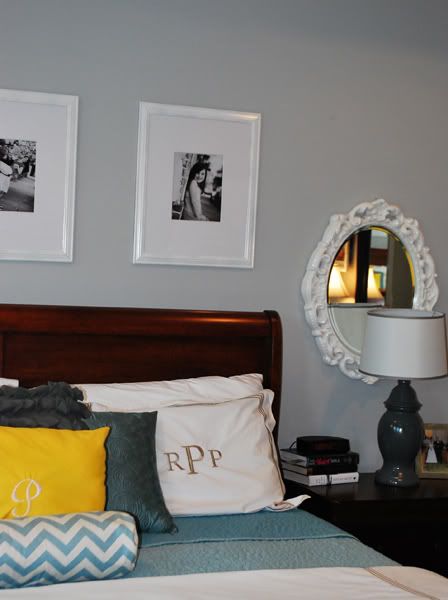 I love the grays, blues and whites and the POP of yellow!!!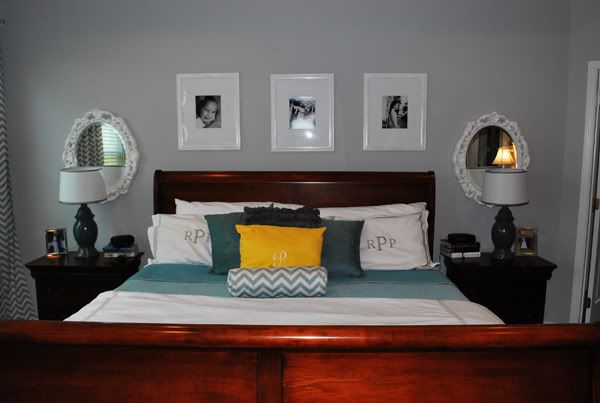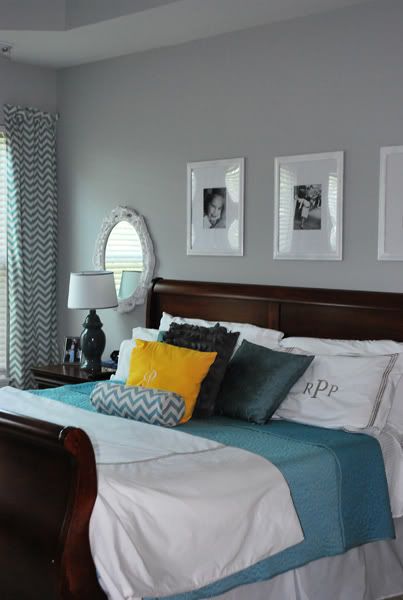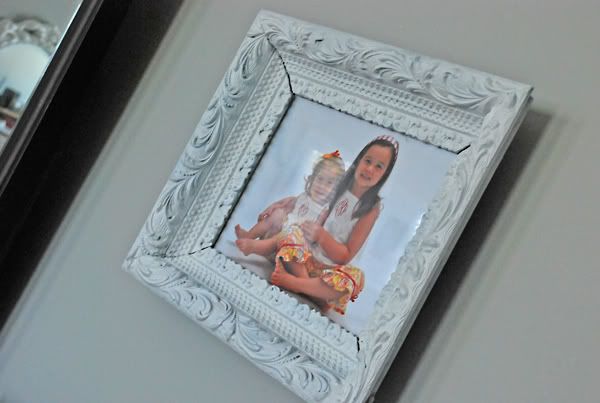 (You can read about the frame
HERE
)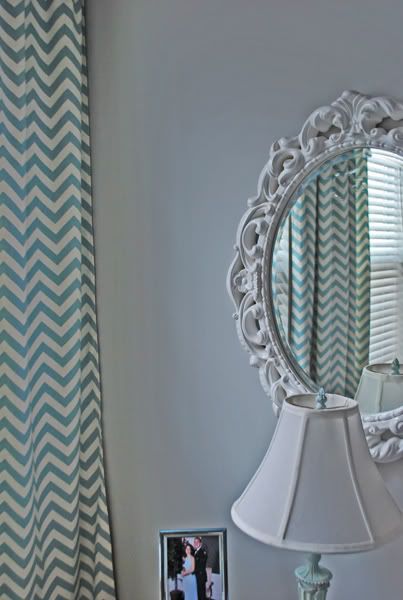 (Read about the no-sew curtains
HERE
)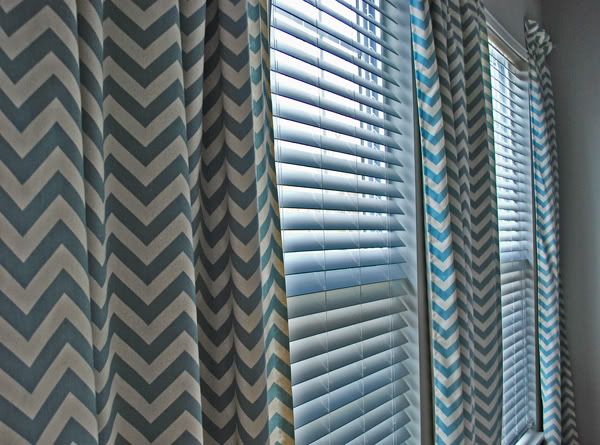 Just for dramatic effects, let's look one more time at the
BEFORE..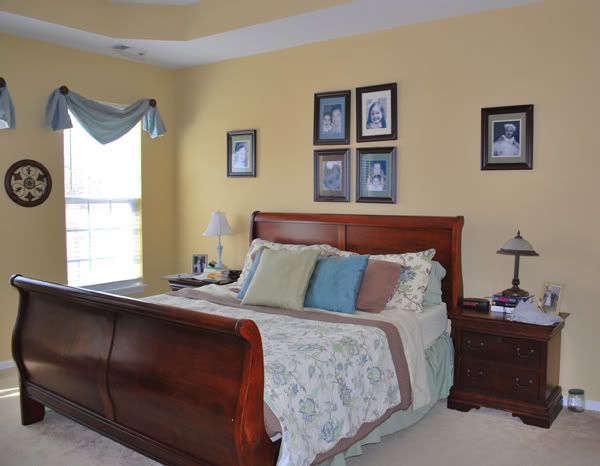 There are a few things I want to do to have this 100%, but it's come SUCH a long way….and I am happy with it!!!
What do you think??
Paint – "Stonington Gray" by Benjamin Moore
Frames about bed – Wal-Mart
Fabric for curtains – Fabric.com
19″ bedskirt – ordered from E-Bay
gray pillow on bed – ROSS
This project was contributed by one of our fabulous readers! We love to share your projects with this great blogging community. So, if you have projects from kitchen renovation ideas to small bathroom remodels, overhauled and repurposed furniture, spray paint updates you name it please send it in! Thanks for reading Remodelaholic!
Other magnificent Master Bedroom makeovers:
Cassity Kmetzsch started Remodelaholic after graduating from Utah State University with a degree in Interior Design. Remodelaholic is the place to share her love for knocking out walls, and building everything back up again to not only add function but beauty to her home. Together with her husband Justin, they have remodeled 6 homes and are working on a seventh. She is a mother of four amazing girls. Making a house a home is her favorite hobby.