When the holiday's sugary temptations get frightful, treat yourself to a guilt-free way to fight wintertime shivering and teeth chattering. This delicious Peppermint Hot Chocolate with Vanilla Whipped Cream will help you fight the chilly temps.
Peppermint Hot Chocolate with Vanilla Whipped Cream
Peppermint Hot Chocolate
Author:
Prep time:
Total time:
Ingredients
1 ¼ cups water
¾ cup unsweetened vanilla almond milk
1 scoop (~30g) Quest Chocolate Milkshake Protein Powder
2 tablespoons zero-calorie sweetener
1 tablespoon cocoa powder
½ teaspoon peppermint extract
Instructions
Pour all ingredients into a medium saucepan.
Whisk until well combined.
Heat saucepan from low to medium while whisking to desired temperature.
Pour the cocoa into two large mugs. Spoon whipped cream (recipe below) over each mug.
Calories:
125
Fat:
1
Carbohydrates:
2.6
Fiber:
1.2
Protein:
23
Vanilla Whipped Cream
Author:
Ingredients
6-8 standard size ice cubes (about ¾ cup)
¼ cup water
1 tablespoon zero-calorie sweetener
½ teaspoon vanilla extract
1 scoop (~30g) Quest Vanilla Milkshake Protein Powder
Instructions
Place all whipped cream ingredients into the small base of a Magic Bullet fit with the double blade.
Blend for 2-3 minutes or until mixture has become thick, fluffy and the consistency of whipped cream.
Top mugs of hot chocolate with whipped cream, and serve.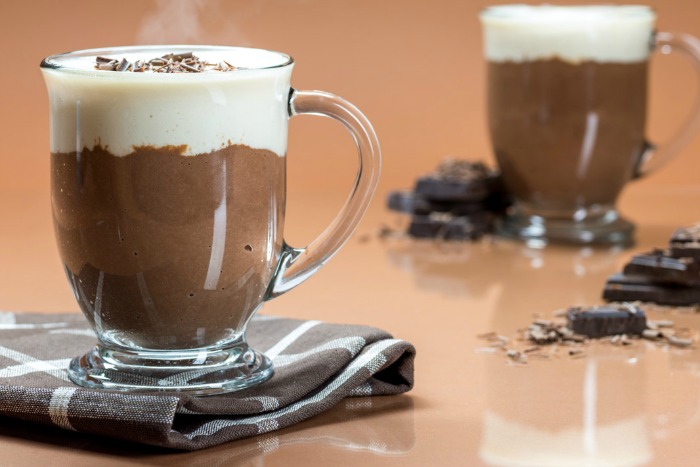 Special thanks to Quest Nutrition for sharing this yummy recipe! Also try their Snowman Cookies!