Real Life Rooms: Updated Ranch Curb Appeal
Learn how to make a basic ranch-style home exterior stand out with these ideas for updated ranch curb appeal.
Hey there Remodelaholic readers! Dawn here, from AD Aesthetic, and I'm back this month with another reader question mockup to hopefully inspire some creative ideas for your cost effective bathroom update. If you've missed any of my previous reader question mockups, you can always see all my posts here.
If you follow Remodelaholic on Facebook, you've probably seen several of the reader questions that are submitted every month. Well each month here on Remodelaholic, I choose one reader submitted photo to offer my two cents on, and I create a Photoshop mock up of what I would do if I were in your shoes! (Pssssst— you can submit your reader questions by messaging Remodelaholic on Facebook, and if you want to get chosen, please be sure to include a good quality photo!)
First though, my standard disclaimer: While I can recommend ideas that I think look nice, I have never seen this house in real life and don't have accurate measurements. I am also not an architect or landscaper and do not know the planting recommendations for your area- I just like to make things look nice. I can't guarantee that any of the items I put in my 'virtual' design will actually work in real life (or that they'll fit your design style for that matter), and this is not intended to be a professional design consultation. So think of this as a just-for-fun rendering that hopefully gets your wheels turning and provides some inspiration!
On to the fun!
READER QUESTION from Nancy — We have a 50's ranch with wood siding, currently is SW link gray, trim austere gray and shutters sun-dried tomato. Also some tan stone trim and planter around the front door. My husband wants more of a green tint, but I don't trust our color judgement. The painter suggested sand, which felt too bland with the tan stone. I was also considering a dark blue accent for shutters, but then can't figure out the body of the house without being too monochromatic. I am stuck!
This ranch-style home is a staple in most American cities, which means that many home owners may struggle to know how to make their ranch stand out without the added benefit of eye-catching architectural details. But you don't need to go grand to make a ranch home beautiful. I couldn't wait to accentuate the charming, clean lines of this home, but before I started, I went looking for some inspiration. Here are a few of the homes that inspired my virtual makeover for Nancy:
Ranch Curb Appeal Inspiration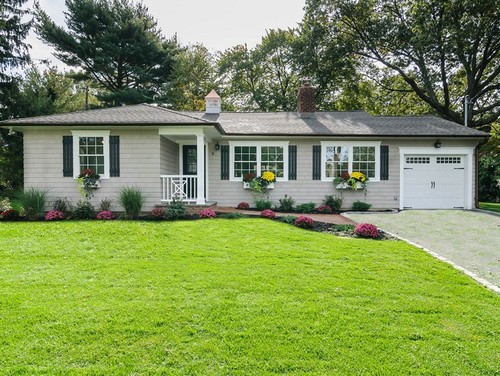 With all that curb appeal inspiration, here's what I did to turn this home from plain to pretty:
Sources:
contains affiliate links; see our full disclosure policy here
Curb appeal tips for a ranch home
Create depth with three colors and contrast
One of my favorite tricks when making over homes is to use two to three different colors on the home, and to make sure those colors are evenly dispersed over the entire facade.
For this home, I went with a deep charcoal/black on the roof, the front door, and the shutters, and then carried that color through the mailbox, house numbers, and down into the landscaping with black mulch.
Next I used a creamy trim to offset the black and emphasize what architectural detail the house does have. White outlining the windows, door frame and porch railings accentuates the clean lines and minimalist charm of the home. Add in a few light cream plants and light decorative stonework, and you have a cohesive and balanced accent.
Finally, the main body of the house, I used a color that is in-between the extremes of cream and charcoal. I chose a neutral sandy color that compliments the beautiful stone porch, without making the porch look like it doesn't belong. The neutral color also allows the bolder accents to stand out without making the home look too busy or heavy.
Create a welcoming (and prominent) entrance
One of the first things I noticed about this home was that it has a lovely wide entrance, however the railings look tiny and spindly against the porch steps. Beefing up the porch railings creates a definitive visual marker on each side of the front steps, drawing attention to how wide the porch really is, and making the entrance feel more open and inviting.
Use plants as accessories
Have you ever noticed that landscaping can make almost any home look instantly better? It really is the finishing touch on any home and adds so much warmth and life. I like to use landscaping both to add color and to create balance with the home's facade.
In this case, trimming down the large bushes on either side of the entry, and adding a few larger plantings towards the corners of the house, gave it a more balanced look, while mixing a variety of plants adds color and interest to the home.
So what do you think? What would you do if this were your home?
As always, thank you to Cassity and the Remodelaholic team for having me back each month. If you like this post, and have a design dilemma you'd like me to mock up some ideas for, you can ask your questions by sending Remodelaholic a message over on Facebook, or checkout my mockup design services over on my site adaesthetic.com. And be sure to follow me on Facebook, Pinterest, or Instagram and say hello! Have a great day, friends!
-Dawn
More ranch-style home curb appeal ideas:
Dawn is one half of the team behind the creative blog, AD Aesthetic. By day she works as the VP of Creative for a design and marketing company (getting paid to make things look good!), while by night she renovates her Midwest home, refinishes thrift-store furniture for fun, and works with her husband on raising two tiny humans. Dawn believes in the potential to design your surroundings and your life one day at a time, and lives by the motto, 'Make everything beautiful.' Get to know her better by visiting her blog, ADaesthetic.com, or following along on Facebook and Instagram.