40 Patio Décor Ideas for a Peaceful, Relaxing Space
Create an inviting, peaceful atmosphere using these patio décor ideas. You'll find adding light, textiles, plants, water or fire, and privacy to be easier than you think!
Related: Makeover Ideas for a Concrete Patio – 25 DIY Backyard Games – DIY Outdoor Furniture and Decor
40 Relaxing Patio Decor Ideas
Create an inviting area in which to entertain guests, relax with the family and enjoy the season! Add to the atmosphere of your outdoor area with a few main elements:
Lighting for romance and softness
Textiles to appeal to the senses and for comfort
Water or fire to create interest and a fun mood
Plants and flowers for color and a pleasant, clean aroma.
Flooring for warmth and a finished feel
Privacy Screens for feelings of intimacy and solitude
This post contains affiliate links. Learn more here.
Patio Décor Ideas: Lighting
This "chandelier" of lanterns hanging from a ladder is super unique and eye-catching. | Duke Manor Farm
You can find amazing lanterns online at West Elm, Pottery Barn, Wayfair, World Market, and Target.
Similarly, this lighting project makes use of mismatched lanterns, ropes, pulleys, and hooks hanging from a pergola. | Serendipity Refined
This candle chandelier uses remote control electric candles for beautiful lighting at the click of a button. | The Created Home on Remodelaholic
Add a canopy of lights over your patio by following this simple how-to. | Studio Gray House
If you're stringing up some lights around a deck or patio, make them pop by adding ping pong balls over each bulb! |Advanced Mischief on Instructables
Another simple patio decor idea: cover string light bulbs with rattan balls from a dollar store. | Crafty Butt
Use extra building materials to create a simple candle holder! | Service Central
If you like the idea of tiki torches for patio décor, but are looking for something with a little more interest, try these wine bottle torches. | Design Sponge
These mason jar citronella "torches" are also unique and add romance, with the added bonus of warding off pests! | Marty's Musings
Or make hanging lanterns with mason jars, tea lights and a bit of chain. | Home Depot (article no longer available)
You can get mason jar lids with the chain attached from Michaels.
Attach mason jar candles to a fence panel or pallet wood with pipe hangers. For a beach-y look, add sand and shells to the jars. | DIY Ready
You can create some custom solar powered lights for your patio with mason jars and glass marbles or stones from the dollar store. | My Turn for Us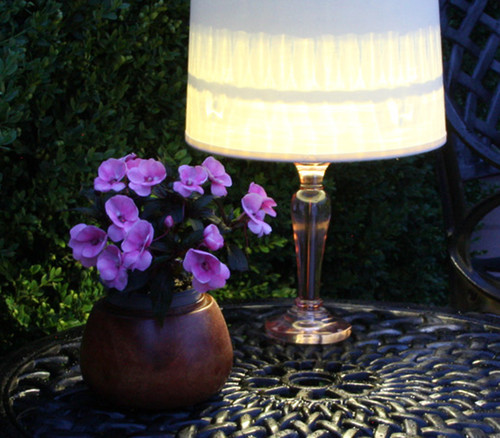 And while you're at it, make a few solar powered lamps for your seating area as well! | Houzz
You could even DIY a solar powered chandelier for your outdoor space! | Home Jelly
And if you really like solar powered lights, you can find several different DIY ideas here! From lanterns and table lamps to wall lights and street lamp posts – there are lots of charming ideas. | Redo It Yourself Inspirations
Patio Décor Ideas: Textiles
Sew some pillows for your patio furniture on the cheap by using an outdoor tablecloth. One piece of fabric equals several outdoor pillows! | Two It Yourself
If you already have pillows that just need a little updating, try our tutorial for spray painting pillows!
Line your pergola or canopy with fresh, crisp curtains that not only add that needed softness but also drape down for privacy. | Everyday Expressions from Kanda
You can add texture, romance, softness AND shade with fabric! Here, drop cloths were cut into wide strips and woven among the upper beams of a pergola to create a sailcloth effect. | Anything Pretty
Patio Décor Ideas: Water and Fire Features
You can easily create a small fire feature with a terra cotta bowl and sterno burners. This tabletop fire bowl couldn't be easier to make, and creates a lovely blue flame. | Today's Creative Life
Using a sleek and slender flowerpot with a sterno burner and rocks can turn a decorative flame into a tiny fire pit! Roast s'mores while enjoying the atmosphere. | The Blue Eyed Dove (blog no longer available)
Or, make a larger fire pit with gel fuel and flame-safe rocks by creating a poured concrete bowl as a base. Make several modern concrete fire pits and place them around the perimeter of your deck or patio for a fun atmosphere! | Man Made DIY
Create a serene waterscape using the same type of concrete base and a water filter. | BJL Aquascapes (website no longer available)
An elegant bamboo water feature creates ambience with the relaxing sound of trickling water. Plus, it's cute and small enough to fit on your table! | SAF Affect
With some clay pots from your local garden center, you can make a bubbling fountain for your outdoor space. | Flying Kitten
Patio Décor Ideas: Plants and Flowers
Hang these cascading bud vases on fence or pergola posts for an exciting pop of color. | Snaps of Ginger
Build a (large!) monogram planter to hold lots of color. Many letters available! | Remodelaholic
A sand and flower centerpiece on your patio table is a simple yet classy addition to your space. Change out the flower as your garden blooms throughout the seasons. | Something Turquoise
Pomanders are balls of blooms that are hung not only for their attractiveness but also for the fresh and pleasing aroma they provide. These flower balls were made with silk flowers, but you could easily make similar balls with fresh flowers as well. | eHow
Hang multiple floral pomanders from your canopy or pergola, string them up between fence posts, dangle them from tree branches or hang one as a centerpiece above your table.
A cluster of macramé hanging jars with buds in your favorite colors will complement your outdoor space and add more texture with the natural twine element. | Hopeful Honey
Try out this easiest hanging planter ever for a quick DIY hanging plant. | Shark Tails on Remodelaholic
Build this planter with just one board! Create several of different heights for variation and interest. | Lemon Thistle on Remodelaholic
Make these concrete geometric planters and stack them any way you like! A Touch of Rainbow on Remodelaholic
Patio Décor Ideas: Flooring
Update your concrete patio with paint. You'll be amazed at the finished result! | Remodelaholic
If you want to add a ton of interest, you can score lines into your "flooring" with a circular saw and paint it. The effect is nothing short of amazing. | The Handmade Home
You can also use a concrete stain to create the look of tile. Your patio will look like an entirely new space with this makeover. | Beneath My Heart
If you're just plain sick of the concrete, you can cover it with brick pavers. There are endless colors available and you can create any design imaginable. It's a clever way to personalize and dress up your space. | Family Handyman
Or, if you like the warmth and texture of wood, but don't want to shell out for decking, cover the concrete with pallet wood! You can make a variety of patterns with the pallet wood slats – herringbone or parquet for instance. | Redo Redux
Outdoor rugs create dimensions and texture. They can also be pricey. Save some cash by buying a plain rug and stenciling your own pattern. The bonus is that you can pick the exact colors to match your space! | Hunted Interior
You can easily paint diamonds on a wooden floor and give your deck, porch or sunroom that 'wow' factor. | Southern Hospitality
Patio Décor Ideas: Privacy Screens
Build a wall with wood slats (or cover an existing wall or chain link fence) with this tutorial. Add hanging pots for even more pop. | The Garden Glove on Remodelaholic
And here's another garden slat wall to hide away eyesores, or hide YOURSELF away! It's an afternoon project and you can use reclaimed wood as well. | Taryn Whiteaker
A hanging patio screen can be ideal when covering sight-lines from above. Hang some framed trellis pieces for privacy that still feels light and airy. | Organized Chaos Online
Go extra frugal and create a cabana-like feel with drop-cloth curtains all around your pergola or patio! Tie them up when entertaining a crowd and they add an ideal softness and layering effect. Let them drape and it's your own private island getaway right in your backyard! | Fancy Frugal Life
Putting It All Together
Here are some excellent tips and ideas for making your very own dreamy oasis in your backyard. | Remodelaholic
This outdoor space combines it all! | Green Wedding Shoes
This small cottage has a tiny outdoor space that's big on style. | Refinery 29
Get tons of ideas for creating the perfect atmosphere on a budget. | Remodelaholic
More ideas for your outdoor spaces:
Please PIN this!
Originally published 9/7/16 — Updated 5/21/2021
Kimberly Mueller is the "me" over at bugaboo, mini, mr & me, a blog that highlights her creative endeavors. She especially likes to share kid crafts, sewing attempts, recipes, upcycled projects, photography and free printable gift tags/cards. When she's not enjoying being married to her best friend, chasing after the natives (AKA her three kids) and attempting to keep the house in one piece, you can find her with a glue gun in one hand and spray paint in the other. Aside from DIY pursuits, she also enjoys writing, reading, music, singing (mostly in the shower) and the color yellow. Kimberly recently published a craft book entitled Modern Mod Podge. You can also find her on Facebook, Pinterest, Bloglovin' and Instagram.