20+ Large Multi-Purpose Laundry Rooms
Multi-purpose laundry rooms are a great space to do more than just laundry. Add a work or office space, a mudroom, a craft area, etc.
Check out other mudrooms, craft rooms, and home offices for ideas on how to combine a laundry room for a great multi-purpose area.
20+ Large Multi-Purpose Laundry Rooms
Let's start big! Meaning the huge, dream laundry rooms bigger than our kitchens that we want to host dinner parties in they are so awesome…
This craft / HUGE laundry room is a great example if you want a multi-tasking space. Great for a sewing room (if you can stand to listen to the laundry washing and drying!) I love the cabinetry and light in the space. Source Cococozy
I think this space is interesting and I think that making that folding table into a rolling island so it would be more useful and could be tucked back against the wall when you are done. Image Source
I love the idea of this laundry room and kids' homework or crafting space! And HELLO red cabinets, I think I love you!
This long laundry room had neat storage space and hanging space as well as the coolest pullout ironing board drawer… I LOVED it!
I think this great huge laundry room is both cute and bright! I love the HUGE window, and the shelves for the laundry baskets…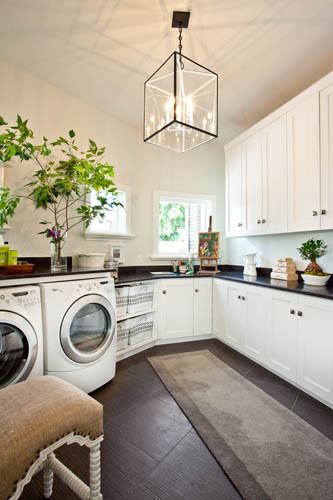 I actually love the odd shape of the space the allows for a lot of open space. It has a TON of storage and folding area, I like the pretty lighting. Overall a great laundry room! Source Houzz.
Yes, someday I want multiple washing machines… call me lazy or wasteful. It is something I still dream about having! Image Source/ image source
This laundry room was part of a HUGE butlers pantry and storage room… Um yeah, I could live with this.
I love the idea of having a sewing space as part of a laundry room. It just makes sense! Did I mention the double laundry machines? I super love that!
So much storage so much space and again those double machines! I love the subway tiled walls and floors. Source Hardenburg Designs
This was a LOVELY laundry room that had space for double machines, TONS of storage, a sewing area, a folding counter and a hanging area. Not to mention the adorable wall paper!
Crafting and present wrapping station! LOVE! I almost want the excuse that I have laundry to do…
This laundry room is large enough to double as a hobby room! Love the details… heck you could craft all day AND get the laundry done. Sounds like a win/win to me! Image Source
While you can't see the laundry machines in this picture I assure you they are there, but the little crafting space in this laundry room was just too cute not to share!
This looks like it might be a basement space, and that it is a shared space too. But Swoon! Check out that huge counter! I think this could totally be done real life the plan is so similar to the bathroom vanity we built, I am sure you could build one for yourself using the same principles! Image Source
This laundry room was truly a dream space, double machines, counter space for days, tons of storage, an island with open shelves to hold laundry, and even (on the other side of the room) a built in TV. Sigh.
How fun are these BRIGHT yellow cabinets with a a wall paper backsplash? A laundry room is a great place to try out a fun color on cabinets!
Love the black and white cabinets in the large laundry room! Image Source
This large double laundry had so many fun details. Like the cute shelf above the double machines!
Another beautiful multi-function laundry room with a huge window. For me natural light is as necessary in a laundry room as dirty laundry! I need the light!
I love the huge folding counter above the machines, and that open display to keep the space personal, but beautiful!
I love the HUGE built-in drawer under these machines!
Tips for Organizing and Designing
Decide what you would like purposes you would like your multi-purpose laundry room to serve. Do you want table space for folding? A work area? A sewing station? A mudroom?
Pick a theme. Decide whether you will go bold or neutral. Modern or rustic. Formal or casual.
Storage. Use the space wisely and organize it using cabinets, baskets, shelves, built-ins etc.
More Great Laundry Room Ideas
Originally Published 06.03.2014 // Updated 6.11.2020