You really only need 5 ingredients for this fresh take on cooking and serving fish, and it is fast and delicious! Try baking tilapia in puff pastry!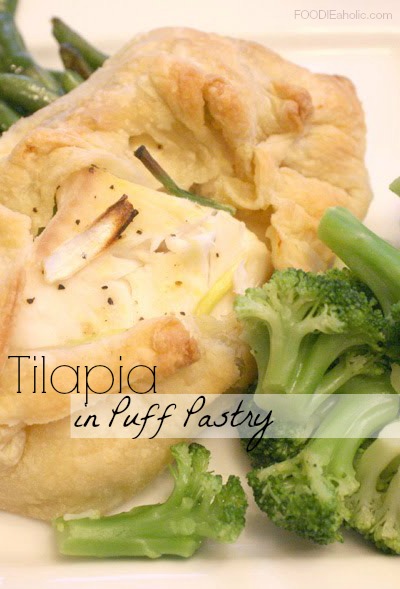 Tilapia in Puff Pastry
Tilapia in Puff Pastry
Author:
Ingredients
1 sheet (1/2 package) frozen puff pastry (found in the freezer section usually near frozen berries)
3 large or 6 small tilapia fillets
2-3 green onions, coarsely chopped
1-2 Tbsp butter
Lemon pepper to taste
Instructions
Preheat oven to 400 degrees F.
Roll out the pastry sheet, and cut into 6 squares.
Place the tilapia in center of each sheet.
Sprinkle with lemon pepper, green onions, and 1-2 small bits of butter.
Bring corners to the center over fish and press together.
Place on a baking sheet and cook 20-25 minutes or until golden brown and fish is cooked.