How to Pick a Color Palette For Your Home
Create your own color palette for home decor and wall paint using our easy 5-step process. Having a home color scheme you love makes decorating decisions easier and less stressful!
As you choose a home color palette, you'll also love How to Choose a Whole Home Paint Color, How to Decorate with Color and Confidence, and 13 Ways to Use Dark Colors In Your Home.
Get a free printable home color palette guide and worksheet.
Creating a Color Palette for Home Decor
I know I am not the only one that gets a little overwhelmed with picking a home color palette, right?
Choosing paint colors for your home can feel stressful — but it doesn't have to be!
This decision is usually associated with a lot of knuckle biting and fear! But let's save those knuckles and take some fear out of it.
There are a few ways that you can easily narrow down the colors that you will enjoy in your home, and I am here to share them with you!
Why You Should Have a Home Color Scheme
If you've ever purchased a great piece of art or decor for your home only to get home and realize it doesn't feel quite right — that's where a home color scheme helps!
Creating a palette of colors to be your own personalized home color scheme makes choosing paint colors and home decor easier because you already have a visual of your home as a whole.
Whether you're giving a room a quick refresh with a new rug or remodeling a kitchen, having home color palette takes the stress out of decorating decisions.
Okay, so the big question is, how do I pick colors for my home?
It is a question that I get A LOT!
There are many different schools of thought on how to create a home color scheme. I'll share the 5-step process that I follow that works for me to make color decisions for my home.
Follow this Remodelaholic signature process to create a 5-color palette for your home so that your home decor feels cohesive and uniquely you, whether your style is farmhouse or modern or an eclectic mix.
Read below to see photos and examples, and click here to get this guide and the printable home color scheme worksheet delivered right to your inbox.
5 Steps to a 5-Color Palette for Your Home
Step 1: Visit Your Closet
The first step in creating your own custom home color scheme is: Go to your closet.
HUH? Yeah, the closet where all your clothes are hanging out. Take a good look at what you have there.
Now ask yourself-
What are the colors I gravitate toward?
What are the colors I love to be in?
Are these colors there because they make me happy?
Why do I always seem to be buying ______ colored shirts?
Whatever it is, take a clue from here. If you love the color, why not use it in your home?!
In this Pinterest day and age, you can also take a look through your Pinterest boards to see what colors you see repeated in the rooms you love.
You might be more into trending colors or classic colors or colors that other people don't really like, and that's okay — your home decor should make YOU happy, not your neighbor.
This post contains affiliate links. Learn more and read our full disclosure policy here.
Step 2: Find a Central Inspiration
Now that you know what color groups you tend to like, let's take a trip to the fabric store…
Yeah, not the paint store (not yet) — let's go to the fabric store! Or you can go to the rug store, home decor store, art gallery… in person or online!
One of the best bits of color scheme advice I have ever heard is to find a piece of fabric THAT YOU LOVE (with several colors that work together well) and use this inspiration piece as your color scheme central element.
Here are a few that have caught my eye lately (click the thumbnails to go to the website and see more):

Whatever you choose, this fabric (or wallpaper, painting, art, rug, curtain, quilt, etc) is your central element, the foundation of your home color scheme.
Why stress over colors when there are professional color experts who have done a lot of the footwork for you?!
When you find what you love, buy it.
Buy a few yards of fabric to get you started with pillow covers, framed art, curtains, etc, or if your inspiration is a rug or painting, buy it and let it be a central focal point of one room in your home.
One of the pluses to choosing your home color scheme this way is that you can see very clearly how the colors interact. And bonus- if the fabric is in a line you can buy coordinating fabrics for your home very easily!
As a warning, be aware of choosing really seasonal colors. Sometimes while shopping for colors you will get caught up in a particular season.

For example, if it is almost fall and you are loving fall colors. Be aware, that if you do all fallish colors in your home you may be sick of them in the spring… unless you followed step numero uno and that is where it led you!
Step 3: Select a 5-Color Home Palette
One of the best tips I learned (while studying interior design in college) for getting a house color scheme to work together is to pick about 5 colors total for the home.
So, lets count it out on our fingers… yes I still watch Sesame Street!
Now the five finger thing might sound too boring, but in the words of Maria, "It is a very good place to start."
If you are unsure of color in your decor, this is the way to make it work. Start with some basics, and then as you become more comfortable, add a little more.
Beginning with basics also makes it easy to change up your accent colors when you're ready for a new color scheme.
For this step, you'll choose general colors from your central inspiration element. Then in the next step, you'll hone in on more specific color tones using paint swatches.
As a note: I typically use established paint colors for all 5 colors in a home color palette because it makes it really easy to use in your home. You can have paint swatches in your purse or car or saved to your phone, and you can easily grab a sample can of paint anytime to update a piece of furniture, paint your own art, or even paint curtains!

Using paint color chips also makes it easy when you want to paint an accent wall, paint a door, paint the cabinets (or cabinet interiors) to add color, or paint anywhere you want to add color!
Home Color Palette #1: Choose A Base/White Paint Color
First, you'll pick a base white paint color (or black…if you are daring).
This base color will be the color of ALL your home's white surfaces be it moldings, doors, walls, ceilings etc.
The nice part about choosing one white paint is that when you need to touch something up there will never be the… ugh, what color was that… moments.
If your home already has a great white color — cha-ching, write that down and move on to the next step.
If you're building new, remodeling, or repainting the entire house, choose your white based on undertone and lighting.
Look at your inspiration piece and notice if the white is more of an off-white or a bright white — this can help you determine if your color scheme might be more light and bright or more dark and dull (but never boring 😉
There are dozens of great white paint colors to match undertones of existing features (countertops, cabinets, flooring) in your home, so be sure to read these tips for picking the perfect white paint color.
Home Color Palette #2: Choose A Neutral
A neutral paint color could be tan, grey, beige, griege, or even a neutral blue.
Look at your inspiration piece again and see what colors are acting as a background color to help ground the design.
Whatever color it is, it must be able to act as your neutral and bring together other colors in your home color scheme. You may want to consider using a transitional color that is balanced between warm and cool undertones.
This neutral will also be a a simple choice to use when you are not sure… for example a hall, or a ceiling.
If you have an open floor plan, this neutral is extra important and can be used as your whole home paint color. Read more and see our top picks for whole home paint colors here.
This neutral might also be the color base for your sofa or other fixtures, too, though it doesn't have to be.
Beginning with a white and a neutral paint color will make it easy to change up your accent colors later when your styles change or you need a room refresh!
Home Color Palette #3: Choose A Main Color
Use your central inspiration swatch to choose a main color for your home color palette.
This color will be repeated through your home so think back to your wardrobe or your Pinterest boards and what colors you gravitate towards.
We have oodles of color inspiration in our Color Files to help you find just the right color for your home.
Home Color Palette #4 and #5: Choose Coordinating Colors
To round out your 5-color palette for your home, choose 2 additional coordinating colors.
As you're choosing these accent colors, keep in mind that warmer colors (pink, red, orange, yellow) tend to be more energizing while cooler colors (green, blue, purple, gray) tend to be more calming and grounding.
Your colors can all come from the same area of the color wheel for a calmer and more monochromatic color scheme, or you can mix it up for a more diversely colored and energized palette.
A basic overview of color theory and the color wheel might be helpful:
Analogous color scheme uses colors next to each other on the color wheel. Example: navy blue, blue, and turquoise.
Complementary color scheme is colors opposite each other on the color wheel. Example: plum purple and mustard yellow.
Triad color scheme uses 3 colors spaced at even intervals around the color wheel. Example: bright green, red-violet, and bright orange.
Split complementary color scheme is a pair of complimentary colors plus a neighbor to one of the colors. Example: blue, orange, and yellow.
Tetrad color scheme uses 4 colors – 2 pairs of complimentary colors. Example: red-violet and bright green with turquoise and orange.
The mood and feel of your home and each room can be enhanced with the colors you choose overall and then again for each room.
Not every color needs to be in every room, so let this be fun instead of stressful!
Check out my color pinboard for more inspiration.
Step 4: Pull It Together
From step one, you know what colors you love, from step two you have found the colors that work perfectly together, and in step three you have narrowed down your major colors.
NOW THE FUN BEGINS!
Go collect as many paint chips as you can in shades and hues of your color scheme. (You can also buy an entire paint chip sample deck or even a fun game if you want!)
Take them to your home, look at them with your fabric, at different times of day in different lights and rooms.
Narrow it down to the paint colors you love based on your 5-color palette, and write down the specific color names on the free home color scheme worksheet.
The worksheet has spaces for these 5 colors, plus alternate selections for your 3 accent colors if you're having trouble narrowing it down and/or want to include a variation on the same color as part of your home color plan.
Tool Alert: If you want a new tool to help with color selection, try this smart color reader tool that can read ANY color and tell you what paint color it is!
As you're choosing specific paint colors in this step, browse our featured paint palettes here and read more:
Step 5: Bring It Home
Now that you've chosen your colors and created your personal home color scheme, you might be asking, "Where do I put these colors?"
In fact, one of the most common questions we get on our Color Files is "I love this color, but how do I use it in my home?"
More SCARY questions!
But remember, save your knuckles and don't be afraid of using color!
If you want your home to flow naturally from room to room, this is where all the steps we've taken will make this process a lot easier.
Let me explain by taking you virtually through a few hypothetical rooms, inspired by this red and light blue color scheme from DesignSeeds.
Ding Dong! (That is the doorbell, I wasn't calling you names!)

Welcome to my home! When you enter the foyer, you will notice I have white trim and moldings… neutral white walls and green-gray Sea Salt ceiling. There is also a fun display of bright red framed art.

I invite you to come in and you walk from the foyer into the living room, that has Sea Salt walls, white trim and ceiling, on the neutral couch there are such fun pillows in pops of red or lighter coral, and another pillow made from my central inspiration fabric… gee it looks like that fabric was MADE FOR THIS ROOM!!! There's a hutch painted in aqua (maybe even Wythe Blue!) to hold books and decor.

The home office is home to our our awesome handmade desk in white and walnut with white shelving for storage and a relaxing area with a bright red coffee table and a light gray sofa, red pillows, and abstract art (it's easy to paint your own!) with both light blue aqua tones and a hint of red — on a deep charcoal Wrought Iron wall for some contrast!

You walk into our dining room (hopefully you are lucky and I've made crème brulee!) But the dining room is more dramatic with white walls a red lacquered dining table, and light gray sea salt place settings and mostly white furnishings with pops of sea blue throughout.

The kitchen features an aqua glass backsplash with red barstools amongst other homey neutral elements like black pendant lights, white cabinets with black countertops, and wood floors.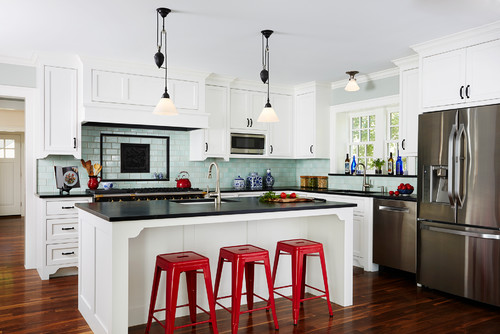 Okay, so maybe a red lacquered dining table might scare you some… but I hope you can visualize the process.
Take the colors you have chosen and switch them up with each room, but with hints of them through out the entire house- the bathrooms, halls, living rooms, kitchens.
Then as you enter each room, you don't think, "Wait, am I on another planet?" Instead each room flows into the next, and your eye is able to enjoy the transition.
You can vary the hue and saturation of a color, too, so don't get stuck on the exact color needing to be in each room, or all 5 colors needing to be in every room.
Read more color decorating tips here, and consider these ways of featuring color in your home:
Using your home color scheme doesn't mean that you can't be bold with color, but that you bring in a hint of what was in the last room.
Ready for another home color scheme example?
Let me take you on a photo tour of a beautiful modern home we toured recently at the Salt Lake Parade of Homes.
This home was built by Ivory Homes and designed by the Ivory Homes Design team and the color scheme flow is such a great example!
Using the living room curtains as the central inspiration element, and putting the living room photo into the Sherwin Williams paint color app as discussed here gives us a broad color palette like this:
(Remember, start with 5 colors to keep it easy — the other colors can come later, if you want!)
Now check out a few other areas of the same home:
You can see that the design team repeated the earthy orange and brown, deep red, and green colors throughout the home, complimented with a light warm toned wood throughout and black accents in the tile, fixtures etc.
Creamy off-white undertones and gold accents bring in the yellower side of the color scheme tie everything together nicely.
Some rooms are more neutral (like the kitchen) and some rooms are more saturated in color so there's a balance in how the rooms feel throughout the home.
(As a complete side note, this was when I started to see the textured carpet that I loved like we installed in the Jordan House basement!)
The fixed features of the home (carpet, tile, cabinets, etc) are pretty neutral with a colorful walls, decor and furniture giving the home character and style.
Your color scheme might not be this dark and moody, and your decor choices might not be the same style, but I hope this helps you see that the color scheme helped this home feel cohesive and homey!
PS: You might notice that many of these pictures show bedrooms. This isn't because bedroom color schemes are better — just easier to capture in one frame! A bedding set is a nice microcosm to see how colors and patterns work together, so be sure to also read up on our guide to mix and match a new bedding set.
But What About The Kids?!
When it comes to kids rooms, my personal opinion is to let them express themselves. So, if they don't match your "house" color scheme- so be it!
I think it's more important to allowing them to create the space that makes them feel like they have a place in our home rather than enforcing my design and style on their space.
If cohesive in every single room really matters to you, try using "their" colors in their bedding or decor and keep your home color scheme in the main wall paint colors or furniture.
Enjoy Your Custom Home Color Scheme!
When you're shopping with a color palette in mind, you are an empowered decorator — it's going to look great!
I hope this helps you feel a little less terrified of picking colors! Good luck!
Don't forget to get the free printable home color palette worksheet here!
More tips and tricks for decorating your home:
Lorene has been behind the scenes here at Remodelaholic for more than a decade! She believes that planning projects and actually completing them are two different hobbies, but that doesn't stop her from planning at least a dozen projects at any given time. She spends her free time creating memories with her husband and 5 kids, traveling as far as she can afford, and partaking of books in any form available.